1

Find

your venue and package

2

Save

your date

3

Book

your wedding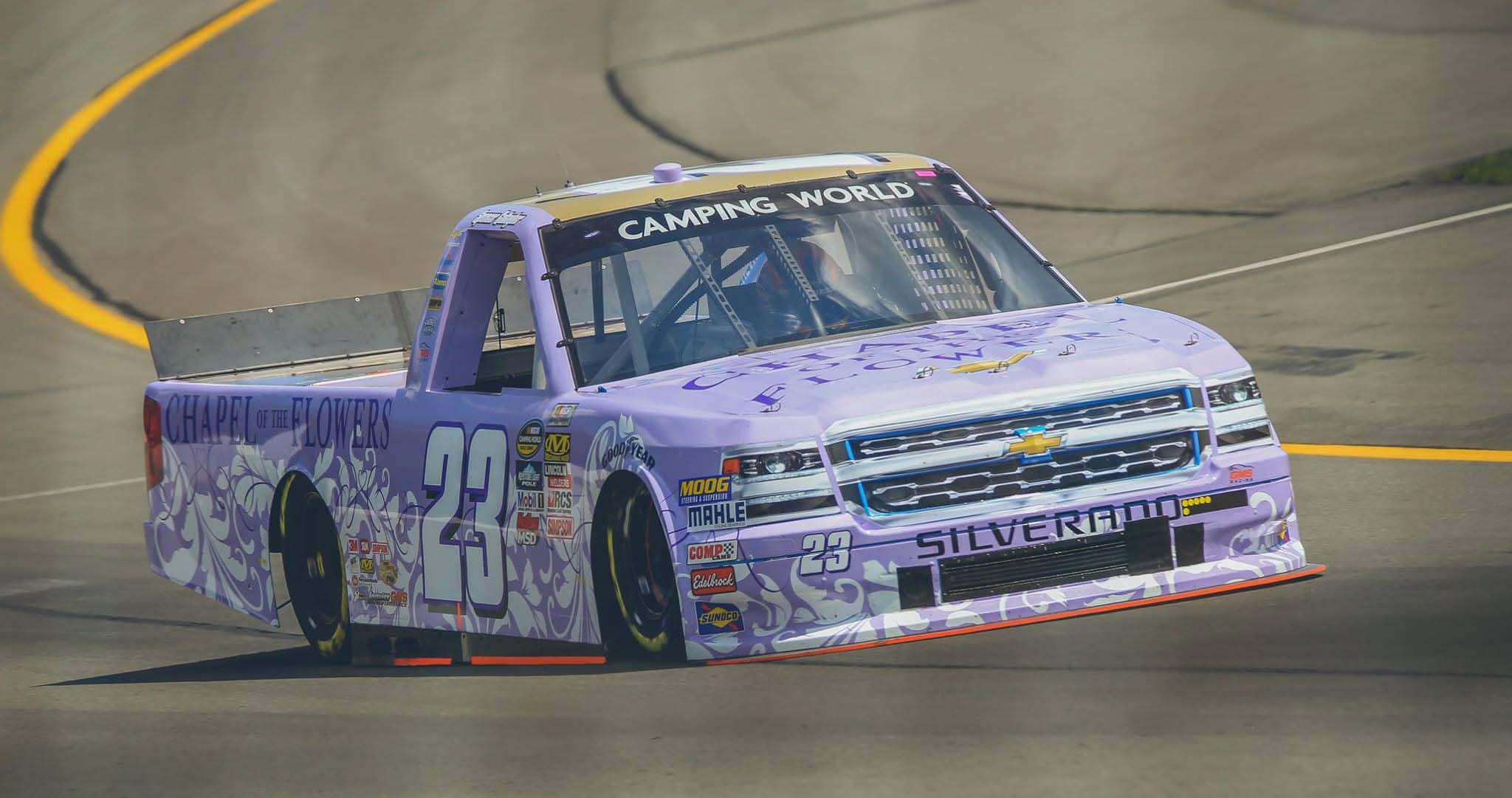 NASCAR
We Love Nascar CWTS Driver Spencer Gallagher
Chapel of the Flowers is a proud sponsor of professional race car driver Spencer Gallagher, who competes full-time driving the Chevrolet Silverado No. 23 in the NASCAR Camping World Truck Series.
Spencer, a Las Vegas native, is on the GMS Racing team, and races at top motor speedways around the country, including Talladega, Pocono Mountains, Indianapolis, Kansas and Las Vegas. Moving up in the ranks, Spencer is applying his skills honed on the ARCA and NASCAR circuits to the highly competitive NASCAR CWTS.
Spencer is young, but with 47 races in four years and 12 "top 10" finishes in the NASCAR Camping World Truck Series, he is the up-and-coming NASCAR truck driver to watch. Look for our iconic Chapel of the Flowers' logo on Spencer's Chevrolet Silverado truck and driving suit, and share photos and screenshots of Spencer Gallagher and the Chapel of the Flowers truck with hashtags #COTFLovesSpencerand #GoSpencer23 on your favorite social media sites.
Race fans who are planning to get married may be surprised to learn that Spencer, also known at Chapel of the Flowers as "Minister Gallagher," is also ordained to officiate at weddings!
Read more about Spencer Gallagher on his Wikipedia page, and follow his NASCAR Truck schedule and current standing here.
Find out what Spencer is doing...
LATEST NEWS
SPENCER OFFICIATES CEREMONY
At Michigan International Speed way, Spencer Gallagher married NASCAR fans...
READ MORE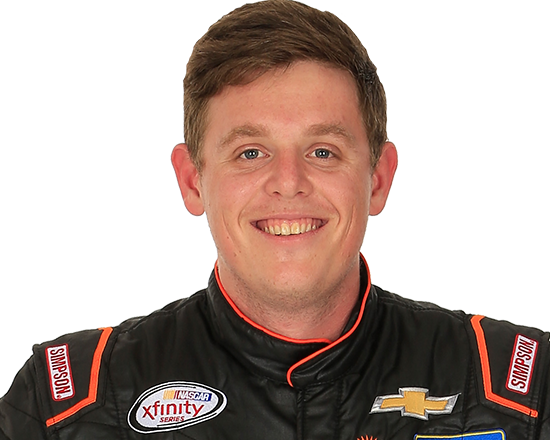 Spencer Gallagher, a driver for GMS Racing, LLC, drives the purple #23 Chevrolet Silverado truck in the NASCAR Camping World Truck Series. The GMS Racing team is based in Statesville, North Carolina, where the state-of-the-art 51,000 square-foot facility maintains a fleet of NASCAR trucks and cars for seven drivers.



MODEL: Chevrolet Silverado

CHASSIS: Steel tube frame with safety roll cage

TRANSMISSION: 4-speed manual

WEIGHT: 3,400 lb (1,542 kg) minimum without driver, with fuel.

POWER OUTPUT: 650–700 hp unrestricted, ≈450 hp restricted.

TIRES: Goodyear slick tires.

LENGTH: 206.5 in

HEIGHT: 60 in

WIDTH: 80 in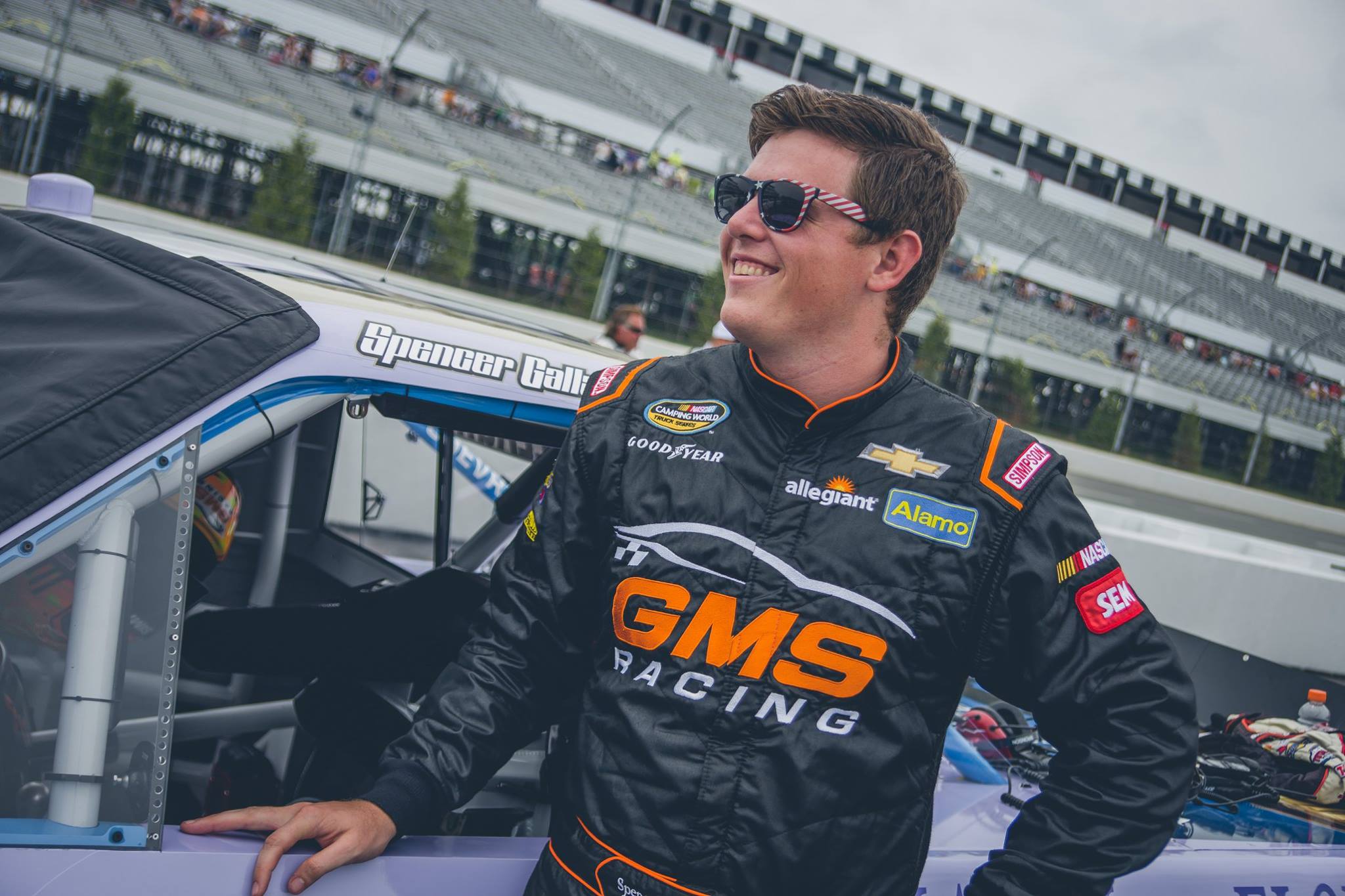 Watch Spencer Gallagher, sponsored by Chapel of the Flowers, race for wins and NASCAR points this summer and fall at one of the following venues:



NASCAR CWTS RACES:




September 16, 2016: AMERICAN ETHANOL E15 225 at Chicagoland Speedway

September 24, 2016: UNOH 175 at New Hampshire Motor Speedway

October 1, 2016: DC SOLAR 350 at Las Vegas Motor Speedway.

October 22, 2016: FRED'S 250 POWERED BY COCA COLA at Talladega Superspeedway

October 29, 2016: TEXAS ROADHOUSE 200 at Martinsville Speedway.

November 4, 2016: LONGHORN 350 at Texas Motor Speedway

November 11, 2016: LUCAS OIL 150 at Phoenix International Speedway

November 18, 2016: FORD ECOBOOST 200 at Homestead-Miami Speedway

Click Here to see where Spencer finished in his last races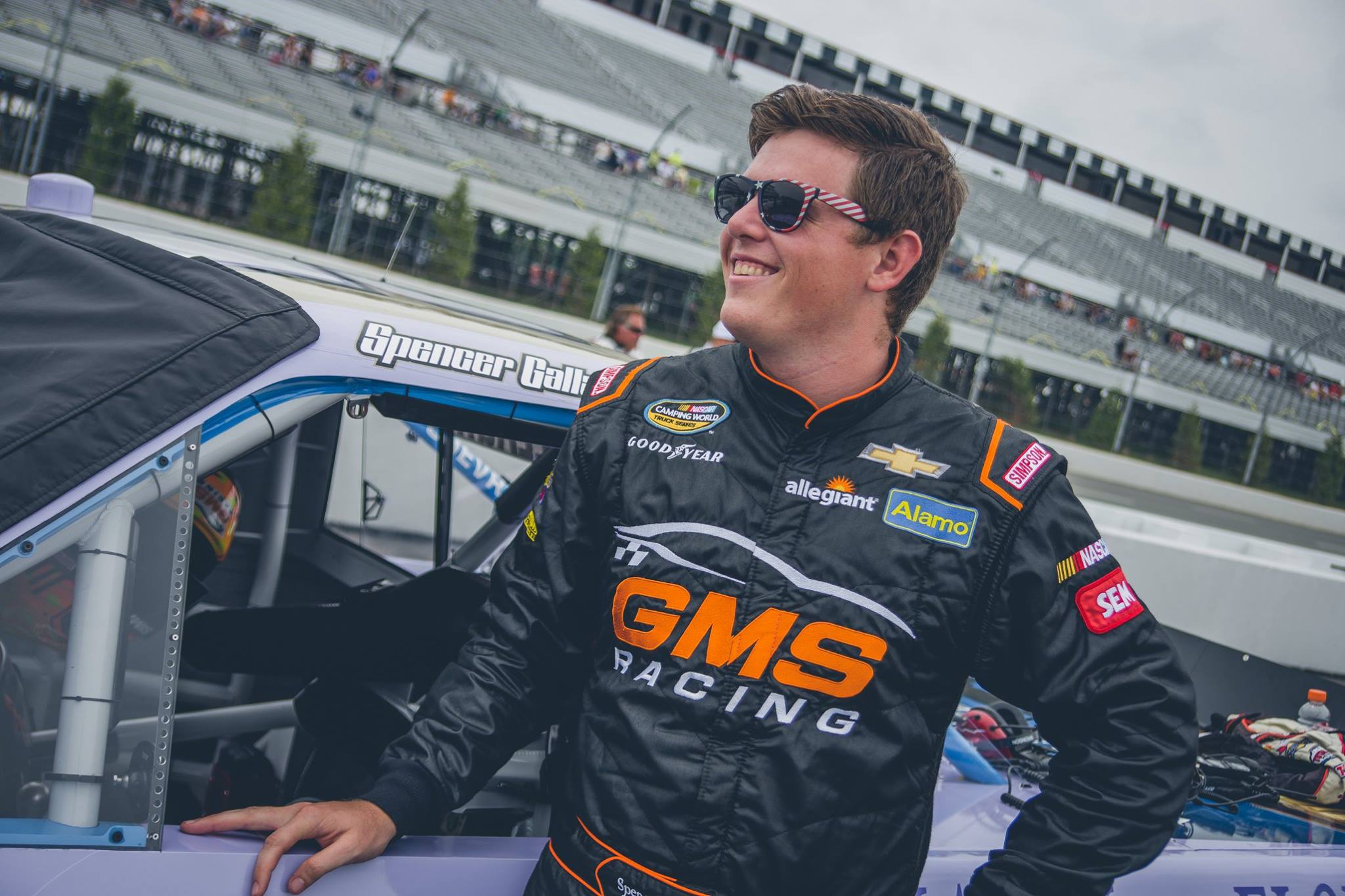 Who drives too fast to chauffer couples to their weddings in Las Vegas in our gorgeous, late-model limousines, but still proudly wears the Chapel of the Flowers logo on his uniform? NASCAR truck driver Spencer Gallagher! Check out the videos below to see him racing for points and victories at top speedways in the United States:
WATCH OUR FAVORITE SPENCER VIDEOS