Live in the moment and stay "unplugged" for every bride and groom's wedding day
Distracting camera use happens all too often now. Brides expect to walk down the aisle to the bright and smiling faces of all their loved ones; instead, those beautiful faces are hidden behind pesky portable devices. Understandably, everyone wants to capture the moment for future viewing or sharing with their online followers, but there comes a point when handhelds prevent people from actually enjoying the moment when they should be unplugged and enjoying the moment. Sometimes, guests are so preoccupied with pressing a button that they even miss the vows!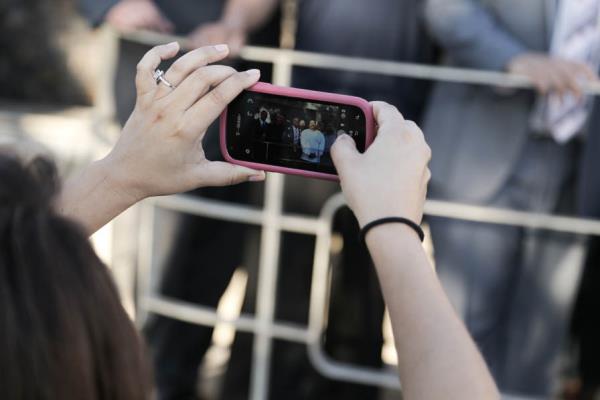 But, not only are guests missing the vows or the first kiss, there are also countless ways their devices can wreck a photo; including, misfired flashes flushing faces out or unsightly hands in the air. Fortunately, we won't allow "Uncle Bob" ruin those beautiful wedding photos! This destination Vegas chapel agrees everyone should be present in front of the camera.
But who is "Uncle Bob" you may ask? This nickname has been fondly dubbed to those friends and family members who mistakenly believe owning a point-and-shoot camera or, worse, a camera phone makes them qualified to get in the way of hired photographers. They mean well, but couples shell out a pretty penny for the professionals. Don't let Uncle Bob ruin photos – notify guests ahead of time that an Unplugged Wedding is the best kind of wedding!
Co-owner Jason says, "We want guests to be in the moment, without distraction. For this reason, we have world class, professional photographers and videographers who will capture the celebration.  While you're making memories, we'll be making your memories last forever."