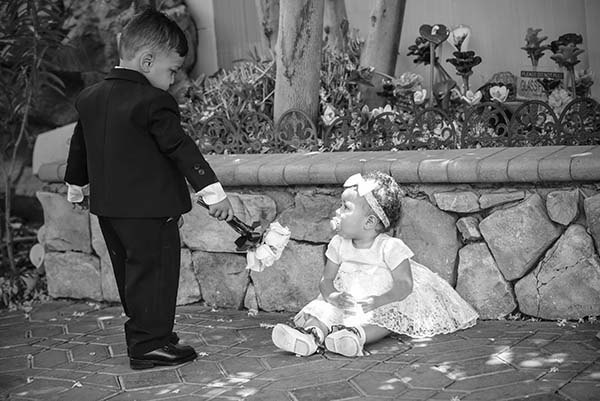 Cute wedding moments aren't posed and scripted… they just happen. Our Lifestyle Photographers at Chapel of the Flowers have a keen eye for catching the adorable moments, and all the emotions from your wedding day. The public voted last month for best Lifestyle "Photo of the Month", and we are announcing the winner for the June 2016 poll.
Lifestyle photographer, Michael, took an unforgettable shot of the ring bearer offering a bouquet to the flower girl at Steven & Monique's wedding on June 24th, 2016.  So sweet! Congratulations Michael on winning June's Photo of the Month for the Lifestyle Photography category!
Make sure you get all the moments captured on your wedding day by adding a secondary Lifestyle photographer (which can be added to any of our wedding packages).  Contact our wedding planners today to book your Las Vegas wedding and don't forget to ask about our award-winning photo sessions!