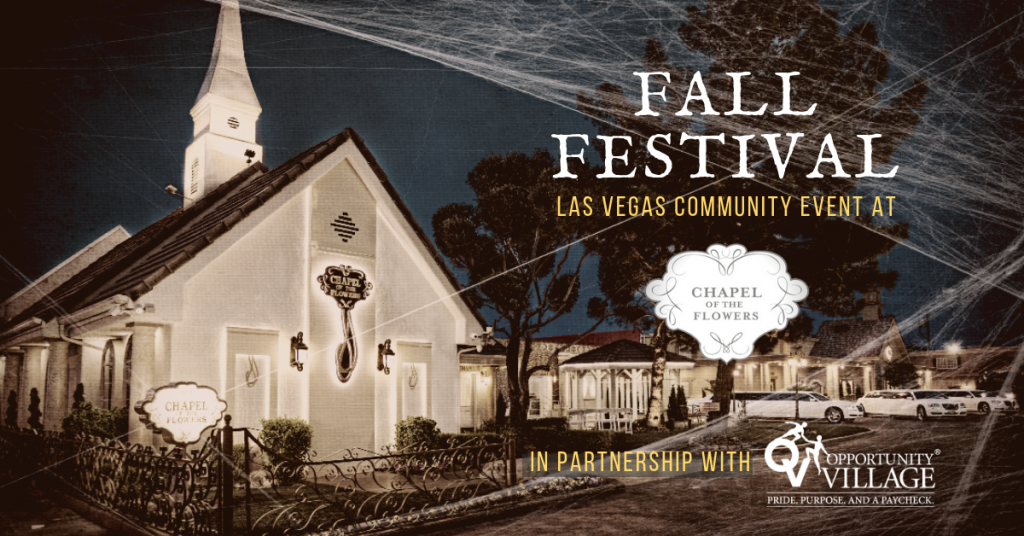 Calling all Ghouls and Goblins for a Spook-tacular time – Chapel of the Flowers has just announced their annual Downtown Las Vegas Fall Festival to be held October 29th at 5 pm. This year, we have partnered with local non-profit organization Opportunity Village to raise money for their amazing cause.
Fall Festival Event
When:
October 29th, 2018
Time:
5:00pm- 9"pm (costume contest at 7:00pm)
Where:
Chapel of the Flowers
1717 Las Vegas Blvd. South
Las Vegas, NV 89104
About the Event:
This Community Event is Family-Friendly and FREE to the public. The attractions will require tickets to enjoy. Carnival Games with prizes will range from (1) to (4) tickets and our Arkham Asylum Haunted House will be (5) tickets. There will also be a cake walk, some FREE attractions, trick-or-treat event, and a costume contest. Proceeds from all ticket sales will be donated to Opportunity Villages.
There will be food truck vendors serving up food and beverages, and they will be donating a portion of their food sales to Opportunity Village.
EARLY BIRD TICKETS are available with a 50% OFF discount if you purchase your tickets early for the attractions.
Last year, Chapel of the Flowers raised over $1,500 to donate to John S Park elementary school to help them with school supplies. This year, we are making the Fall Festival bigger and better. We are hoping to exceed the $1,500 to donate to Opportunity Village and bring the community together to celebrate Halloween, Day-of the Dead, and the Fall Season!

We had some great memories from last year.
Share this blog with all your family and friends, and don't forget to purchase your tickets early to SAVE!
Chapel of the Flowers hopes to see you all there!