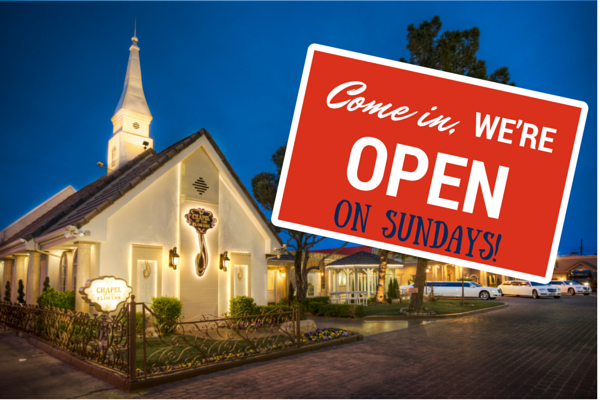 Las Vegas is a city like no other. Tourists from around the world come to "The City that Never Sleeps" and are surprised that most businesses are open late (some never close) as well as open on Sunday. Chapel of the Flowers is no exception: we are open 7 days a week and 363 days a year!
Sundays are typically a slower day in the wedding industry due to the work week starting on Mondays. That doesn't mean that our chapel is closed. We are open 7 days a week (excluding Thanksgiving and Christmas).
Our wedding planning experts are in the chapel office from 9:00am- 6:00pm every Sunday ready to help you design your dream wedding and finalize all the details.
Our coordinators are also on-site to assist with any weddings taking place on Sundays. We do welcome walk-ins, but always recommend that you contact a wedding planner at least 2 weeks prior to your wedding date to make sure we have the venue, date, time and staff available for your romantic "I dos."
So what's so wonderful about Sunday weddings? There are pros and cons of getting married on any day of the week, but more couples are considering getting married on a Sunday for the following reasons:
Lower Prices. Packages are usually less expensive for Sunday-Thursday weddings than wedding packages on Friday and Saturday.
Hotel rates are cheaper. For couples and guests coming into town, hotels typically raise their hotel rates from Thursday-Saturday nights. Sunday-Wednesday nights tend have lower rates, plus the hotels are less crowded.
Start your vacation with the wedding. Most couples that get married in Vegas tend to stay longer than a weekend, so take the extra time off after the wedding date instead of before. Our wedding planners can help you book your hotel, celebration dinners and other all-inclusive amenities for the perfect wedding getaway.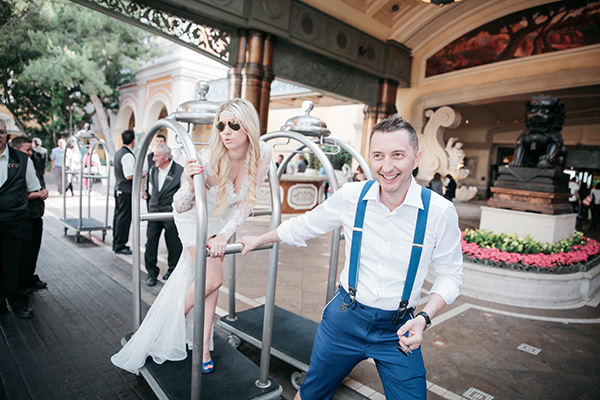 No matter what day of the week you plan to exchange vows, our wedding experts are here to plan the wedding of your dreams. Contact our planners via email at info@littlechapel.com or toll free 1-800-843-2410 (UK 020 3286 5662) for more information on our Las Vegas weddings.
Office Hours:
Mon-Thurs: 7:00am – 8:00pm
Fri-Sat: 7:00am – 9:00pm
Sun: 9:00am – 6:00pm