NASCAR Driver Spencer Gallagher Officiates at Speedway Wedding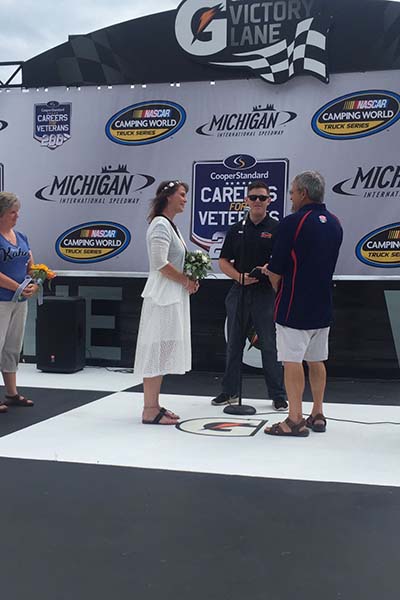 Wedding ceremonies don't always have to take place in a chapel, but it's not every day that you see a couple say "I do" on a racetrack. When William Kelley and Shelley Shaffer decided to exchange vows at Michigan International Speedway last month, there was no doubt about who would officiate at their NASCAR wedding: "minister" Spencer Gallagher, also known as @23SpeedRacer.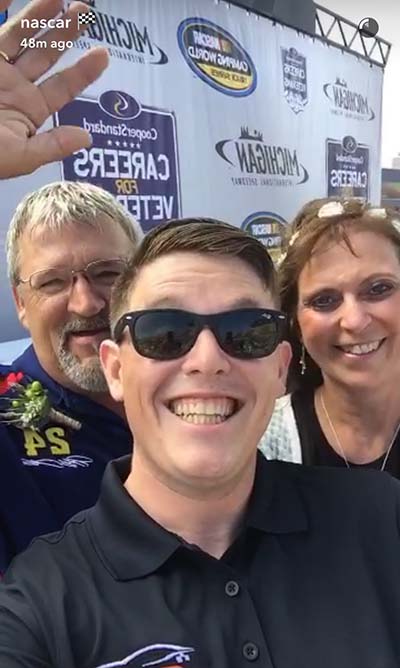 Spencer, who is sponsored by Chapel of the Flowers, is licensed to perform weddings across the United States. The couple made a $500 donation to MIS Cares and in turn was allowed to have the wedding of their dreams at the Michigan track the Thursday before "Careers for Veterans 200" race that took place on Saturday, August 25. The ceremony lasted five-minutes, and included humorous vows that referenced common racing phrases that were familiar to NASCAR fans. "Through checkers and wreckers" and "you may now commence your burnout" were just two of the memorable lines exchanged by the bride and groom.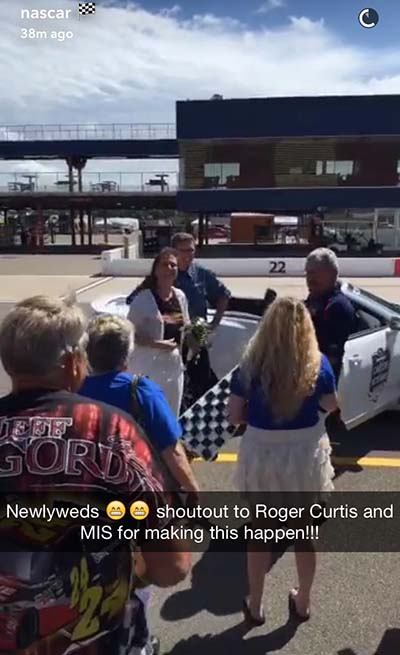 The getaway car wasn't the standard stretch limousine, but a Chevrolet Camaro driven by track President Roger Curtis, at 100-mph around the track no less.
Spencer Gallagher stated that he hopes to marry other couples at racetracks in the future. We can't wait to see him using his #23 Chevrolet Silverado truck to take newlyweds around Victory Lane!
See the wedding video here:
If you are interested in a chance to be married by Spencer Gallagher in Las Vegas this September, click here to donate for a chance to have a Las Vegas wedding with Spencer Gallagher officiating PLUS (10) General Admission tickets to the NASCAR Camping World Truck Series "DC SOLAR 350" race at Las Vegas Motor Speedway on October 1, 2016.