Are you having a Fall wedding and looking for some floral inspiration? Our award-winning florist hit the net and gave you the top Fall floral trends for 2013!
1. Fall leaves are a perfect perfect way to add texture to your Autumn wedding.
2. Surprise your guest with a tasty and creative Autumn treat such as these caramel candy apples!
3. Our florists can garnish your wedding cake to match your flowers for a custom look!
4. This bouquet is a statement of elegance.
5. Using matching flowers our florists can make your Groom stand out in the crowd!
6. Are you more of a tulip girl? Have a spring fling with your fall colors!
7. Vanda orchids are always in style no matter the season.
8. Your wedding day should be all about your personal style! Let our experienced staff help you customize your venue!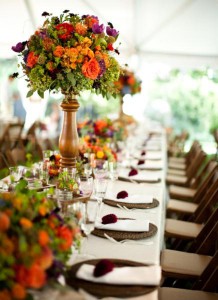 9. When thinking Autumn why limit yourself to oranges, yellows, and browns? Jewel tones are exquisite this time of year!
10. There is something about flowers and candlelight that set a romantic scene for a wedding reception.
Let our experienced staff help you personalize your ceremony! Keep updated with other wedding trends this year by following our blog.
Click here for more information and/or contact your wedding planner today to schedule your free consultation with the Head of Floral, Jena Waller!