Today marks the second year since same-sex marriage has been legally recognized across the United States.  With same-sex wedding packages on the rise, the demand for diverse and unique weddings has continued to gain momentum. Here are some same-sex wedding planning tips to help make your LGBTQ wedding experience as fabulous as you are!
The Engagement
When it comes to a heterosexual relationship, it's often presumed that the man will propose to the woman, but what about same-sex couples?
While some lesbian and gay couples are popping the question on one knee, others are doing things a bit differently. Most same-sex couples tend to plan it out together. Photo via: theknot.com
Expert wedding tip: Make a day-date, and go ring shopping together; this way you both get what you like.  
If you are more traditional and like the romantic notion of getting down on one knee, but don't know if you're the one that should be asking or receive the proposal. Ask yourself "Do you see yourself asking the big question or answering it?" Here are some great same-sex wedding proposal ideas. Photo credit: Angie Capri
Fling Before the Ring
Now that you are engaged to your partner, it's time to have a bachelor/ bachelorette party.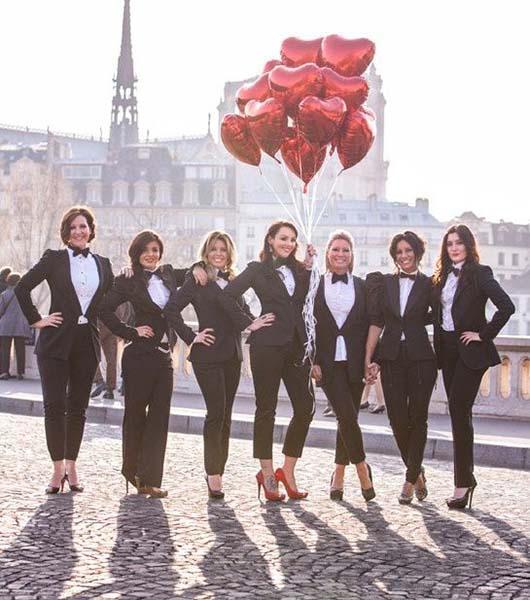 Many same-sex couples find that they share all the same friends. Why not combine your parties, and have one big 'shindig'?! Enjoy the day with all your friends, and your #1 best friend; no need to split up — the more the merrier! Photo Credit: One and Only Paris Photography
The Rings
Think outside the box, and get the style that you love! Here are some things to think about when picking out your wedding rings:
Matching bands: show how you two are truly soulmates!
Same materials, different designs: show your love & unity, but still incorporate your unique style
LGBTQ wedding rings/bands: show your pride by incorporating LGBT colors into your jewelry. See more ideas at Equalli.com for the ultimate guide to same-sex wedding rings.
The Wedding Day
There is no right or wrong wedding theme, be who you are — it's your special day! Here are some ways to give your wedding day a subtle splash of pride:
Give your cake a personalized flare with these same-sex wedding cake toppers. Photo via: Etsy
Dazzle your guests with stylish LGBT-inspired wedding decor. Photo via: Style Me Pretty
Have a unique "pride-style" guest sign-in table. Photo via: All Day Chic
Same-Sex Ceremony

Traditional ceremonies typically tend to play to gender roles, making it a bit difficult for a same-sex couples to figure out how to walk down the aisle.
The "First Look":  Seeing each other before the wedding will allow you to walk down the aisle together. Who better to walk down the aisle with you? Photo credit: Kelly Prizel
Mom & Dad: If your parents are "in the picture", and support you no matter what — make sure that have both of them walk you down the aisle. Photo via: Luminaire Images
Close Relations: Sometimes (no matter who you are), parents just don't agree with your marriage, or may not be in your life. Many heterosexual, and same-sex couples are selecting their closest friends or family members to escort them down the aisle. This is a great alternative for those that wish to have their "special moment" down the wedding aisle. Photo credit: Kristeen Marie
The Wedding Party: A common trend seen in same-sex ceremonies is a mixed-gender wedding party. This makes for a great photo opportunity with all your friends, you no longer have to leave anyone out because of their gender. Photo credit: Megan Burges Photography
Wedding Photos
One of the most important parts of your wedding day is capturing those special moments. Always make sure you communicate with your photographer; let them know what makes you feel comfortable and what you envision for your wedding photos. Get inspired by these great same-sex wedding photos.
Photo credit: Marc Millman Photography
Photo credit: Michele Beckwith
Photo credit: Ideal Imaging
Photo credit: David Wittig
Get more inspiration on Pinterest!
Marry who you love, and pick a gay-friendly Las Vegas wedding chapel. Chapel of the Flowers welcomes the LGBTQ weddings, and offers a variety of commitment, vow renewal, and wedding packages that can be customized to fit your personal needs. Contact our wedding planners today to book your same-sex wedding in Las Vegas!