A staple at every wedding, flowers are the best way to add color and create mood at your spring wedding. Whether your style is romantic or rustic, modern or playful, if you buy seasonal flowers for your spring wedding you can save money on what is often the most expensive part of a wedding. These are seasonal flowers for a romantic or rustic spring wedding.
Single Flower Impact
A classic from the south, and lining the streets and filling the air with fragrant blooms in the hills of Southern California, the magnolia is pretty amazing as a single flowers for your wedding bouquet. rustic or romantic the impact of a single magnolia flower makes it the perfect of seasonal flowers for a spring wedding. (Source: Magnolia Society)
The Romantic Bouquet
Peonies, Queen Anne's Lace and sweet pea are the perfect combination for a romantic spring bridal bouquet. The Queen Anne's Lace can also create a bouquet all its own that is delicate and airy and make a perfect bridesmaids bouquet to compliment the bride's. You can see these flowers looked gorgeous together at the wedding of Liz and Josh, captured by Angela Cox.
Peony: Peonies are found in pink, coral, red or yellow but not blue. (Source: 12 Facts Every Peony Enthusiast Needs to Know, Town and Country)
 Sweet Peas: Sweat Peas come in endless colors: pink, purple, blue, burgundy, white and yellow. (Source: World Class Sweet Peas with Steve Hampson, Roger's Gardens)
Queen Anne's Lace: Naturally, Queen Anne's Lace is white, but it can be dyed easily to the color of your choice. (Source: Flowers from A-Z: Q is for Queen Anne's Lace, Design Sponge)
The Rustic Bouquet
Gerbera daisies are the rustic wedding flower and happen to be in season for the spring. We love how this bride mixed so many seasonal flowers for a spring wedding to create these colorful bouquets for herself and her bridesmaids.
Gerbera Daisy: Gerbera daisies come in lots of colors for the bouquet of your rustic dreams. (Source: Organic Bouquet)
 Anemone: The  Anemone comes in red, white or bluish purple. (Source: Flower Focus Friday: Anemone, Details of the Day)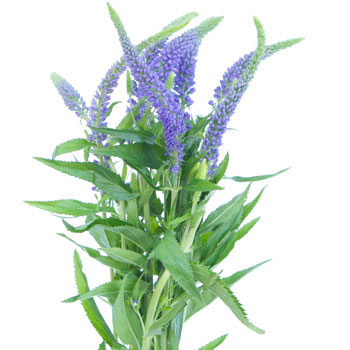 Veronica: Veronica represents fidelity. They come in shades of pink, purple, blue and white. (Source: Fifty Flowers)
Come back and visit us Thursday for seasonal spring flowers for a spring wedding: modern and playful.