On December 10,  2015 Chapel of the Flowers released the findings of data they have compiled on engagements and weddings in the United States. You don't want to miss these exciting facts about Las Vegas weddings if you plan to get married in 2016.
During the holidays, between Thanksgiving and New Year's Day, over 30%, or 575,000, engagements will occur in the United States. As a result, we can expect over 2 million weddings in the United States in 2016 and Las Vegas is projected to host 6%, or 34,000, of those weddings.
An interesting fact about Las Vegas weddings… 65,000 international couples will travel to Las Vegas for their weddings in 2016; for a grand total of 100,000 Las Vegas weddings expected in 2016!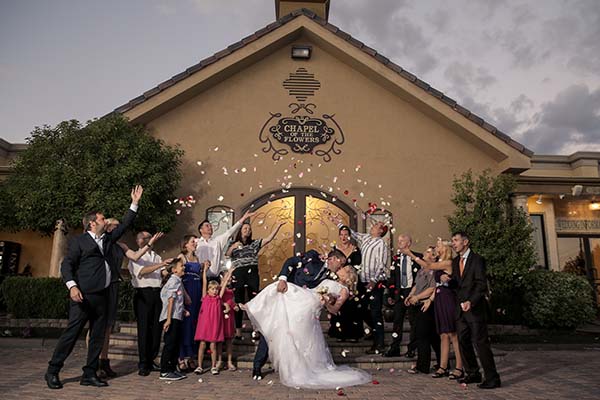 In big cities such as Los Angeles, New York, Boston and San Francisco finding the perfect wedding venue on the perfect date has become extremely competitive. This is when couples start to look into a destination wedding in Las Vegas. There is no need for a couple to compromise their vision of a dream wedding on the ideal date with a destination wedding at Chapel of the Flowers in Las Vegas.
"Chapel of the Flowers has been helping couples celebrate love since 1960." said Nicole Robertson, Director of Operations at Chapel of the Flowers. "Every year at this time we see a spike in inquiries asking about available wedding dates for the following year, and it isn't uncommon for a bride or groom-to-be to reserve a specific date a year or more out, even before the marriage proposal. Couples opting for the elegant, stress-free option of a destination wedding at our Chapel coordinate their dates with our planners, then check with their HR department to make sure they can get the dates off work before finalizing the wedding ceremony booking."
About Chapel of the Flowers
Chapel of the Flowers has provided intimate and elegant weddings on the world-famous Strip in Las Vegas, Nevada for over 55 years. It is a full-service wedding venue with three traditional wedding chapels, as well as a beautiful outdoor gazebo and an enchanting glass garden. The venue's cobblestone-accented grounds, beautiful water features and lush landscaping create a variety of options to capture that picture-perfect wedding moment with their award-winning photographers. The professional wedding planners at Chapel of the Flowers work with couples from all over the world to plan extraordinary Las Vegas weddings on a daily basis.
Chapel of the Flowers has won numerous awards including TheKnot.com "Best of Weddings" and "Hall of Fame"; WeddingWire.com "Couple's Choice Award" for "Best Wedding Venue: Las Vegas"; Las Vegas Review-Journal Readers Pick for "Best Wedding Chapel"; and Beautiful Bride Magazine Las Vegas Best Independent Wedding Chapel. Chapel of the Flowers is also a "Top Five" must see destination in Las Vegas, as rated by TripAdvisor.
For more information and to plan your Chapel of the Flowers all-inclusive dream wedding please visit https://www.littlechapel.com.