Back in the early 19th century, someone, somewhere thought of this grand idea to break down what someone should buy for their significant other for their wedding anniversary gifts per year, for example (for the first year of marriage you should buy something made of paper, or for the 5th year of marriage you should buy something made of wood, etc.) You can read more about the origin of this idea of gift giving here.
Well, times have surely changed…
To be honest, in this day and age women don't want a blender, trinket, or another household item for their wedding anniversary gift.
They want to be gifted with an EXPERIENCE or a memorable ADVENTURE.
And with everything being open again, we have the freedom to experience life to the fullest!
We have collaborated and combined a few ideas of what we believe will make for some unbelievable experiences, for your wedding anniversaries for years to come–or at least from year 1-year 10.
1. Revisit the place where you first met


This is the perfect wedding anniversary gift and is sure to take your partner's breath away–bringing them right back to where it all started.
The moment you first laid eyes on each other, even if it wasn't instant fireworks, this can be such a romantic moment as you continue to celebrate your love story or your 1st year of marriage.
What would make it even more special is a glass of champagne, or apple cider if you aren't big into drinking and rereading your vows, or sharing a special moment from the heart, about how lucky you are to be with someone just like them.
2. SURPRISE! Surprise your partner with taking them someplace they have always wanted to visit.

We got some feedback when we collaborated on making this list from a woman who said her husband made her dreams come true when he took her to a place she had always wanted to visit since she was a young girl.
Her wish was to visit Southport and Wilmington, North Carolina. She had a big connection to North Carolina because her favorite movie was filmed there, A Walk To Remember. She shared that she fell in love with everything about the area and had to see it for herself.
Well, if you know anything about that film, you'd know that in the movie the main character, Jamie, had a list of things she wanted to accomplish before she died, and her beau in the movie, Landon, was doing everything in his power to make all of her dreams come true.
So, it was very fitting.
Your significant other might not have a story quite like this, but you get the idea.
The second year of marriage is all about courtship.
To sum up, even if your relationship isn't in that honeymoon phase anymore–it's still possible to create the magic that was once there.
3. Say Cheers to you and your love in Napa Valley, Wine Country.
Your third year of marriage is a time to remember your why. Why you chose one another, and how you can continue to grow even deeper in love. We recommend going somewhere fairy-tale-like. We couldn't think of anything more magical than spending quality time together in Wine Country.
Here you will be able to enjoy endless, incredible, high quality, wine tasting or take in the beautiful sights during an intimate light stroll.
On the other hand if you are feeling a little more adventurous take a hike on some gorgeous trails that are open to bikers, hikers, and equestrians. You will also be in close proximity to numerous hot spring resorts, and nearby lakes. Or you can even jump on a wine train!! How fun does that sound?
This picturesque getaway has something for everyone!
4. Charming Sunset Picnic for Two–Yes Please!
Delight your love with a wonderful endearing gift that comes with food! Yum! Snacks are always welcome no matter who your partner is ( they can be healthy snacks too, of course).
Here's what you will need to create the most intimate evening picnic:
A few nice blankets
An old style picnic basket
Charcuterie board: you can do a traditional style with deli meats, cheeses, crackers, grapes, strawberries, chocolates, or whatever you two love most
A bottle of your favorite, wine or champagne (or apple cider for any non-drinkers)
Some fresh cut wild flowers
For evening picnics a few flameless candles are always a nice touch
A small Bluetooth speaker to set the mood, or just in case you feel like slow dancing
Bring an activity like cards, board game, art supplies, something you two will enjoy doing together
This truly is an activity that you can customize to your needs and wants.
5. Revisit the place you were first married, and be sure to stop by your reception venue for dinner.
It's time to reminisce on one of the best days of your life.
As you two celebrate 5 years of being by each other's side, and 5 years of good times and challenges along the way, the best advice we can share is to take time to slow down and pause.
It's important to just allow yourselves some time to reflect on how far you've come, and what you both want in the coming years.
Statistics say married couples begin to hit a bit of rut, or can get "stuck" anywhere from years 5-7. And what that means is that it can often feel like you are questioning your partner, and if your values, beliefs, and desires are really aligned like they once were.
As a result, revisiting where your marriage first started always helps to reconnect to your WHY as a couple.
Why you knew you couldn't live without each other, and wanted to spend the rest of your life making them happy.
We love the idea of being able to recreate your wedding day, but we know that's not always possible.
Definitely visit where you were married, or as close to it as you can (at least the same city).
If you cannot have the exact meal you had, then just have Italian food if you had Italian or Mexican food if you had Mexican, etc.
Bring something with you like a cute brand new notebook to take notes about what you want to create as a couple–(try not to bring a laptop or IPAD to take notes, just because anything digital can quickly become a distraction).
Here's to you and your love story, and your vision for how you will continue to grow even deeper in love.
6. Plan an EPIC adventure date
Who doesn't love a good adventure?
As a result, an adventure date of this magnitude will take your love to the NEXT LEVEL without fail!
Some of our favorite ideas for your potential adventure date are:
Hot air balloon ride
Parasailing
Ziplining
Helicopter Ride
Boat ride
Paddle boarding
Surfing
Skiing
Snowboarding
Skydiving
Hiking
Camping
If you feel like none of these speak to you, that's okay too.
Even something like dance classes, just make sure it's something that pushes you to go out of your comfort zone.
This is an activity that can really bring you closer if you are both open to it.
7) Let's go on a…ROAD TRIP!!

What a great way to see the sights while you get to learn more about each other, and see what your partner loves most–whether it be the amazing food or the breathtaking sunsets, you will be sure to see your love light up!
In addition, to spice up this road trip planning process,  you can play a game.
Here's how to play…
Grab a map and flip a coin to decide where you will end up each day. Where will fate take you in this 7th year of marriage?
It can actually be quite magical!
As a result, you are getting to spend SO MUCH quality time together.
Moreover, you are getting the time to discover what the best parts of your relationship are, and what each of you bring to the table, and how it allows for you to work so well together.
Get packing!!
8) Can you keep a secret? It's time to go on an exclusive getaway!!!
For your 8th wedding anniversary we recommend you two rent something like a private cabin, deep in the woods.
To clarify, the idea is to GET AWAY from everyday life, work, housework, kids activities, whatever it is.
Even if it's just a staycation at a local hotel, create a little oasis for just the two of you.
Where you don't have the worries and cares of it ALL!
We highly recommend unplugging from the digital world, this trip is about you the two of you relaxing!!!
Usually we are so busy with the hustle and bustle of our daily lives, that we don't allow ourselves time to slow down.
This is that time.
If you're looking for permission or a sign, HERE IT IS!!!
Reset, recharge, come home from this little getaway feeling ready to take on whatever year 8 has to offer you and your love story.
9) We are headed to…the TROPICS!!
Pack your sunscreen, sunglasses, bathing suit, your best sundress, or cozy beach wear, and that's pretty much all you will need!!
This trip is all about getting your best tan, room service, and staying in bed together from sun up to sun down.
You get to make this whatever you want it to be.
However, whether you choose to be adventurous and plan romantic excursions like horseback riding on the beach, or choose to be absolute beach bums, this will be a once in a lifetime experience.
You are just about to hit a huge milestone–your 10th year wedding anniversary is now in sight.
This is a BIG deal.
Which is why we believe you two should treat yourselves to a honeymoon do over, or perhaps your first real honeymoon.
10) It's here the moment you've been waiting for!!!
You did it!!
You have reached what some know to be your "tin" or tenth wedding anniversary.
The traditional 10 year wedding anniversary gift is usually something made of tin.
We just don't feel that really aligns with what a 10 year wedding anniversary signifies in today's day and age.
10 years is MUCH MUCH bigger than something made of tin.
In short, our suggestion would be to do a Vow Renewal in Las Vegas with a fresh new diamond ring.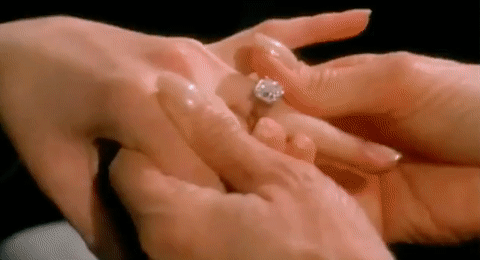 Something that expresses what you two have accomplished and been through over the years.
Most importantly, this vow renewal will be the time that you and your special someone come together, and do it YOUR way.
It's common for couples to make sacrifices on their wedding day to appease and satisfy the wants of others.
There are always so many thoughts, opinions, concerns, etc. when planning a wedding, but with this intimate elopement if you will, this vow renewal, will be something that you and your love get to call all the shots on.
The best part about this wedding anniversary gift, and having your ceremony in Las Vegas, is that you and your partner will have endless opportunities to either lounge by the pool, experience the most exquisite fine dining, catch a breathtaking show, or to do something a little more outrageous and zipline over the city.
But wait, there is something you must do before you leave the beautiful city of Las Vegas.  Make sure to get a photo of you both in front of our Married in Las Vegas Sign.
This will be a photo that you cherish for many years to come.