Summer is fast approaching! Wedding season is in full swing and you worked hard to look your best for the big day. Go the extra mile and make sure to pamper yourself for the wedding day with manicures and pedicures, and don't forget your bridal hair and make-up.
With so many hair types and styles, how can you pick just one style for your wedding day look? With summer months being typically hotter than majority of the other months in the year, you will want to pick a look that will last the whole day.
Here are some wedding day hair and make-up ideas perfect for brides, bridesmaids, mother of the brides and wedding guests that will keep you cool during the summer months while still looking fantastic.
Wedding Hairstyles for Short Hair Length
Short hair can super glamorous. The best part about having short hair is that you will stay nice a cool during a  hot summer wedding.
Short curls with an oversized flower clip for a pop of color.
Wispy updo with a flower crown.
Short blow-out with dainty floral pieces.
Wedding Hairstyles for Medium Hair Length
Keeping the hair off your neck during the summer will make you sweat less. These medium length hairstyles are both classic and trendy for the sizzling summer season.
Simple french twist with a modern touch.
Braids with curly side bun.
Soft larger curls pulled to the side with classic ivory flower clip.
Wedding Hairstyles for Long Hair Length
Having a ton of hair for your wedding day is great for creating so many different styles. Here are few of our favorites for a summertime wedding.
Oversized ballerina bun for a look that never goes out of style.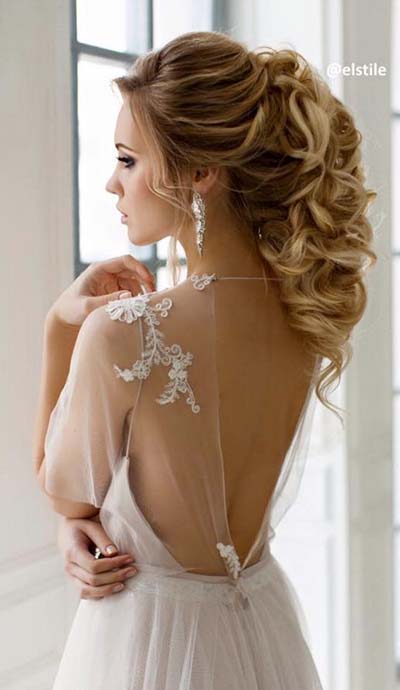 Romantic pony tail pulled up loosely with curls.
Large side braid that has been slightly pulled apart.
Wedding Make-up Ideas
Whether you take a DIY approach to your make-up or have a professional make-up artist make you up, you want to make sure to pick products that won't smear through your tears of joy or get greasy looking throughout the day.
Dramatic red lips with a dark smoky eye with Airbrush Makeup.
Lashes for days with a neutral tone and lip gloss.
Get the look for your Las Vegas wedding! Chapel of the Flowers offers amazing hair and make-up services to add onto any Las Vegas wedding package. Enhance your gorgeous features by having a professional team come out to your hotel room to style you for your special day. Contact our wedding planning experts via email at marryme@littlechapel.com or by phone Toll Free 1-800-843-2410 (UK 020 3286 5662) for more information.