Old is new again in 2015. Couples are predicted to mix classic wedding trends with eclectic elements creating a unique twist on wedding traditions, style and themes. Here is your guide to the 15 biggest trends for the 2015 wedding season.
Wedding trends tend to change from year to year and from region to region. The International Wedding Trend Report looks at past trends and how they have evolved and changed to influence new trends. Society, home design and pop culture also play a huge part in predicting what will be in-style this wedding season.
Top Wedding Trends in 2015
1. Color Me Pretty
Marsala has been named Pantone Color of the Year for 2015. This deep brownish red color is predicted to be the hot wedding color this year. Although dark colors are associated with fall and winter weddings, this versatile color can be paired with neutral, light, bright and metallic colors to fit any season. There are many ways to incorporate this jewel tone in your wedding. Whether it is your main color for your bridesmaid's dresses and flowers or used as an accent color in your napkins and jewelry, this color will be sure to bring a robust, rich and romantic undertone to enrich your wedding day color palette.
2. What's in a Theme?
While formal sophistication is always a classic theme in-style, there are two unique themes on the rise for 2015 weddings.
'Bohemian Chic' theme is the evolutionary product of the rustic theme wedding seen in past years. Although vintage rustic weddings will still be a popular design this year, couples are adding a little flair with boho-chic style. Imagine a vintage style wedding with a gypsy vibe. Couple's will use handpicked bouquets, bold colors mixed with metallic tones and earthy linens incorporating lace to create this free-spirited motif.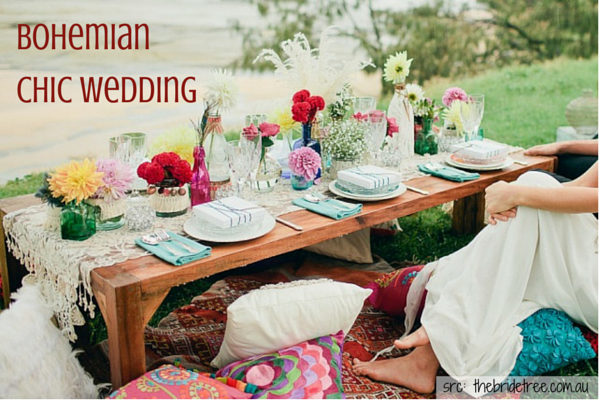 'Industrial' is another popular theme on the rise. More and more couples are choosing an urban ambiance to showcase their wedding. Expect these weddings to be take place in a renovated warehouse or factory with exposed brick and air ducts. The versatile lofty space will leave couples with a blank space to decorate with either urban accents like Edison light bulbs for a casual setting or can even glam up the space with chandeliers for a more refine affair.
3. Unique Locations
The trending themes of 'Bohemian Chic' and 'Industrial' are definitely influencing the venue types that will be popular this year. One of the most sought out venues for 2015 will be the converted warehouse, loft or factory for Industrial style weddings. Couples looking for an outdoor event, traditional tents are a thing of the past, and over-sized tee pee tents are a must-have feature for outdoor receptions. There is also a rising craze of making weddings a weekend event. Couples can rent a mansion or private resident to host a wedding party all weekend long with the ceremony and reception on-site.
4. Fashion is Everything
Fashion is always evolving and sometimes old becomes something new again. This year, designers are creating modern wedding dresses with a vintage twist. The most prominent style is embracing the classic sweetheart neckline with detailed and off the shoulder sleeves. Some other fashion-forward trends seen on the runway are dresses with hints of muted hues (like blue and green) and tea-length hemlines. Although grooms' fashion hasn't changed too much over the past several decades, colored tuxedos and suits are growing in popularity; as well as custom cuff links and textured fabric vests and bowties.
5. Dangling Décor
In 2015, the chandelier is going to get a face lift. Instead of the traditional crystals and bling, couples will look for more simplistic fixtures like Edison light bulbs. Whether it is lighting, lanterns, flowers or fans; experts are predicting that a lot of wedding décor will be suspended from the ceiling. Other trends expected to be big this year are benched seating, flower walls and couples using their own home décor to create design elements for their wedding.
6. Flower Power
Flowers are always a trend that will never go out of style. Brides will swoon over everything flowers this year. Due to the new fad of 'Bohemian Chic' weddings, flower crowns and floral hair accessories are predicted to be one of the biggest trends in 2015. Couples will also be mismatching centerpieces throughout the reception with different floral arrangements. Though there will be a lot of flowers, the earthy movement is becoming the next big thing in floral schemes. This latest foliage craze incorporates firs, ferns and ivy to be the focal point in majority of the design.
7. Bold and Beautiful Linens
Couples are bringing back linens as a main accent piece this year. Linens can be a huge part in creating the theme and tone in a wedding. This year's on-going theme of "old is new again" will be played out with high demands for vintage-inspired linens. Retro prints like polka dots and stripes will be used in table runners, napkins and cushions. Floral prints, metallic and bold colors will also be paired with neutral tablecloths to add pops of color and texture.
8. Let Them Eat Cake
Cupcakes came and went, and the wedding cakes are making a comeback. This year couples are wanting their wedding cake to be a statement piece for the eyes and taste buds. Top wedding cake trends will be larger cakes with many tiers, buttercream over fondant, mixing shapes for each cake tier, sequins and floral designs, unique flavor combinations, metallic accents and the "naked cake".
9. Foodie Feast
Informal catering is growing in popularity and 2015 will be a big year for creating a culinary dining experience for wedding guests. Traditional weddings tend to have seated or buffet meals, but couples are moving towards non-traditional catering options. Family-style dining is becoming the next big thing in wedding catering. This style mixes the seated and buffet options for a casual dining atmosphere. Also expect to see more low-key weddings with small bites, food trucks or tasting stations with late night snacks.
10. Drink and Be Marry
Quality over quantity is a growing trend at the bar in many weddings over the past years. More couples are paying extra to give their guests high-quality beverages choices and offering hors d'oeuvre with drink pairings during cocktail hour. With this growing trend, drinking stations have been created so guests can sample smaller sips of unique drink combinations.
11. Let Me Entertain You
More couples today are paying a little extra to make sure their wedding is unforgettable with top-notch entertainment for their guests. The revival of live bands and music have been re-surging over the past years. Though DJs are a cheaper, more couples are adding live bands to the reception as well as acoustic or solo acts to cocktail hour. This year also expect fireworks to be replaced with fire dancers, and photo booths replaced by video booths.
12. Tech-savvy vs. Unplugged
Some couples love technology and some couples hate technology. Either way you spin it, technology will be a growing trend for decades to come. There are two growing technology fads in the wedding industry. The first craze embraces technology by encouraging their guests to take photos and video to post on social media sites using apps and custom hashtags to make sure every aspect of the wedding is captured. Some couples may argue that this notion takes away from the guests' experience of the wedding. That is where the second trend of "Unplugged Wedding" comes from. This non-technology movement invites guests to not use any electronic devices during their wedding to make sure guests are experiencing the ceremony and socializing at the reception.
13. You're Invited
Setting the tone of your entire wedding day starts at the invitation. This little piece of paper will tell guests not only the time and place, but the overall feel of your big day. Couples are taking to heart that first impressions are everything and sending out more stylized invitations this year. Invitation trends for 2015 will include: laser cut invitations, floral designs over rustic, fonts as the main focus and metallic embellishments.
14. Flavored Favors
Couples are ditching the practical place card holder favors and splurging on a yummy snack to give their guests. Edible favors will be one of the top trends for wedding favors this year. Who doesn't love a midnight treat to take on the road?
15. Pops of Culture
Pop culture influences almost every aspect of your life; including your wedding. Bohemian Chic weddings will take inspiration from Disney's "Into the Woods" movie. For a more elegant and grandeur weddings, couple will be influenced by "The Moon and the Sun" or "Cinderella" movies both releasing in theaters Spring 2015. Celebrities have encouraged fads for decades and couples will use past celebrity weddings as insight to create their perfect wedding. Tee pee tents are already a hot item thanks to Matthew McConaughey's teepee reception. Other trend-setting celebrity weddings like Kim Kardashian and Lauren Conrad are expected to impact couples wedding designs in 2015.
Incorporate some of the biggest trends at your wedding! Contact our wedding planners at Chapel of the Flowers for information on wedding packages, specials and ideas how to include these big trends in your Las Vegas wedding. Build your custom wedding package today by reaching them via email at marryme@littlechapel.com or toll free 1-800-843-2410 (020 3286 5662 UK)