When it comes to wedding trends, we've got you covered! The reports are in, and our couples are buzzing over this year's stylish trends. From the Pantone's Color of the Year to attire, and even top venue suggestions, 2018 is going to be a year full of some of the most elegant and natural weddings that you have ever seen. Our wedding planners put together a list of some "must-have" wedding trends, that will help you plan your wedding.

2018 Wedding Trends
2018 Wedding Color
Pantone is the known for their color matching system, and has become the authority for picking the "Color of the Year." The selected color scheme for the 2018 wedding season is Ultra Violet.
Get ready to see a beautiful array of purples from lavender to plum, or even purples mixed with your favorite bold colors! (Photo Credit: Erika Firm)
Whether you choose to use this color in your wedding party attire, or in your décor, adding the playful purple hue will add pizzazz to your color palette.

2018 Wedding Invitation Trends
Make sure you give your guests an idea of your wedding theme with your invitations and "Save the Dates." In 2018, expect more wedding paper to a natural feel to the invitation with marble, watercolors, and metallic foil accents.
(Photo via Minted.com)
2018 Wedding Dress Trends
From the runway to the aisle, 2018 brides are looking for stylish options that show off personality. Sleeves, gowns with hues, and embellishments or beading are all the hottest trends that are being shown on the runway this season.
(Photo via Watters)
(Photo via Green Wedding Shoes)
(Photo via Rita Vinieris)
2018 Groom's Fashion Trends
Gentleman, too, are incorporating this casual, yet polished look into their attire! Be original with casual fabrics like tweed or herringbone and keep it fresh with hues of your favorite bold colors!
(Photo via StudioSuits)
2018 Wedding Party Trends
Keep it simple and stress-free in 2018. Many are opting to have 2-3 wedding party members or consider just having the maid of honor and a best man. Not only will this make fittings and meetings easier to coordinate, but it will also make it much easier to get through pictures.
The wedding party fashion hasn't changed too much in recent years, as more couples are deciding to have more fun with prints like florals and polka-dots, or mix-and-match bridesmaids dresses.
(Photo via Style Me Pretty)
2018 Wedding Venue Trends
Garden weddings or outdoor wedding venues have been a huge trend for at least a decade. Couples today are now switching it up, they love the outdoors, but hate the unpredictable nature of taking their ceremony outside.
Many couples are bringing the outdoors inside, and finding venues that have an outdoor feel, but indoors. You will still see rustic-chic weddings, but couples may add a hint of industrial or woodland to their event space.
Another venue trend is to have an elegant and modern location. Clean lines, and minimalist styles with a hint of art- deco will be a growing trend in 2018.
Chapel of the Flowers in Las Vegas features both modern and elegant chapels as well as a rustic indoor garden setting for your ceremony.
2018 Wedding Flower Trends
Greenery is more popular than ever! Freshly cut foliage and succulents in potted plants will truly bring out a natural and harmonious touch to your decor that will tie everything together.
(Photo credit: Jennifer Williams)
(Photo credit Alison Conklin)
(Photo credit Carolyn Marie)

Another emerging floral trend is, "dark and dramatic". Pair your greenery with dark colors for a subtle, yet elegant look! Expect to see dark hints of purple, such as, wine, lilac, and mauve in 2018 floral arrangements.
Stepping away from the recent wildflower bouquet trends, 2018 promises to see an abundance of Dogwood bridal bouquets and other "overgrown," yet uncomplicated floral bouquets.
(Photo credit Jen S Photography)
2018 Wedding Hair and Make-up
The best advice any wedding planner can give you for your wedding day look is to make sure you hire a professional hair and makeup team to make you look photo ready, and that you pick a hairstyle that you are comfortable with. If you wear your hair down, then pick a style that is mainly down, and updos for ladies that wear their hair up for most of the day.
(Photo via Wedding Bells)
Depending on your personal style your makeup shouldn't overshadow your overall look, pick colors that are natural.
(Photo via Femaline.com)
2018 Reception Trends
Small and full of surprises – receptions have been transforming into small experience filled events that are exclusively for the couple's closest family and friends.
Unlike previous years, the dinner and drink menu has become increasingly essential to the reception. You will often hear guests say "the wedding was great, but the food was terrible!" Focus on picking a menu that will "wow" your wedding guests.
(Photo credit Mel Barlow & Co.)
We're also seeing non-traditional receptions, with casual cocktails and passed hors d'oeuvres and no sit down setting. Couples want their guest to feel like that are at a posh party, and able to move around the room and mingle.
Who doesn't love donuts? Give your wedding guests a donut buffet instead of a candy bar.
2018 Wedding Décor Trends
 The most popular trend last year and this upcoming year is going back to basics and keeping things natural. Think marble stone accents, lots of plants and foliage, and mixed with metal accents.
(Photo via Boho Weddings)
You will see more silver in 2018. Rose gold and bright gold have been the star of recent years, but silver will be on the rise this year. You will also see mixing of metal types.
(Photo via Southbound Bride)
Add a touch of black. Black accents will also be big for couples that want to add a bit of a rock-n-roll vibe or a classic touch to their wedding.
(Photo via Kate Aspen)
2018 Wedding Planning Trends
We live in a day and age where you simply can't escape the internet and social media.. and why would you want to? Couples in 2018 are flocking to the internet to plan their special day. You can now book your venue online and even keep in constant contact with their wedding planner with just a touch of a button! You no longer have to schedule weekly meetings with your wedding planner being just clicks away.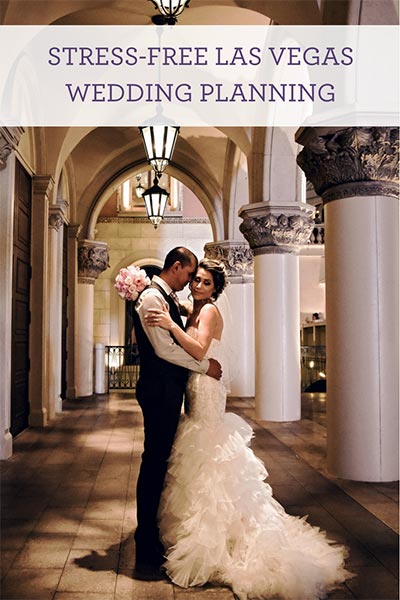 Instagram #hashtags and SnapChat filters are still very popular this year and aren't expected to go away. Many couples will buy a filter just for their wedding day.
We are looking forward to seeing how brides and grooms take these predicted trends and customize these suggested ideas to make their own. If you are interested in planning a Las Vegas wedding, our knowledgeable wedding planners at award-winning Chapel of the Flowers can help make your design the perfect wedding.  If you're interested in saving money, have a look at our Las Vegas wedding packages.  If you'd prefer to look at venues our Vegas wedding chapels might be what you'd like to see next.