We have begun a new year, but last year, Chapel of the Flowers had beautiful weddings, exciting events, and huge milestones! There is nothing more fabulous and thrilling than a Las Vegas wedding. Take a look back at some of our most memorable moments from 2017!
JANUARY
"Rain, rain, go away… come back on my wedding day!"
This wedding photo proves that rain doesn't ruin your wedding day, and captures the beauty of a January wedding in Las Vegas.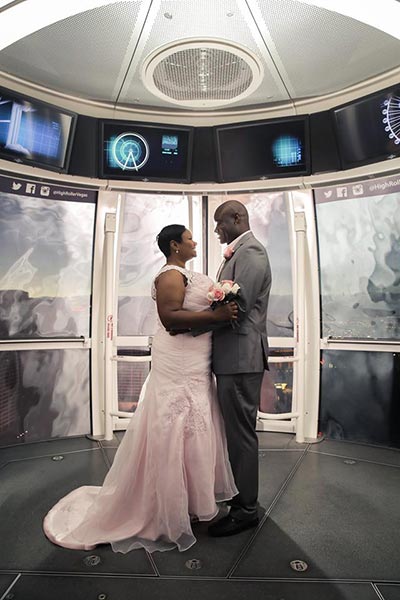 Romantic, intimate and scenic…Adrian & Chequila exchanged their wedding vows 550 feet above the famous Las Vegas Strip on the iconic High Roller Ferris Wheel.
FEBRUARY
Chapel of the Flowers premiers The Glass Gardens, a one of a kind, rustic-chic chapel in Las Vegas.
Congrats, Clark County, on issuing the 10,000th same-sex marriage license!
We love when our past couples come back to visit the Chapel. Peteris and Darja, re-lived their wedding day! Congratulations, you two!
There's no better time to devote your L-O-V-E to that special someone than Valentine's Day!
MARCH
Are you following us? Chapel of the Flowers hits 2,000 followers on Instagram!
The Chapel of Flowers team gives back at "Walk for Wishes"!
Realize your fairytales with these Beauty and the Beast inspired looks at Chapel of the Flowers.
APRIL
Check out the stunning, grand re-opening of the modern and luxurious, La Capella Chapel.
"God Made a Woman" country singer, Jerrod Niemann stops by to serenade one lucky couple!
Chapel of the Flowers goes retro during the Viva Las Vegas Rockabilly Weekend.
MAY
In a galaxy far, far away…one couple dreamt of a Star Wars wedding!
May Flowers bring… Flower Showers!

JUNE
Congrats on two years of LGBT marriage equality. Happy Pride Month from Chapel of the Flowers!
Celebrating decades of love and memories with a Chapel of the Flowers throwback from 1960!
One of our grooms got this awesome ink done to remember where he said: "I do"!
JULY

Celebrating 7/7/17, one of the most popular wedding dates of 2017!
We are "All Shook Up" for this new Elvis wedding package.
AUGUST
We became the best and most reviewed Las Vegas chapel and hit 1,000 "5-Star" reviews on Facebook!
Chapel of the Flowers was awarded TripAdvisor "Certificate of Excellence" 3 years in a row!
We launched our brand new Chapel tour videos showcasing all our newly remodeled chapels.
SEPTEMBER
Vegas.com stopped by the Chapel and featured us on their web series.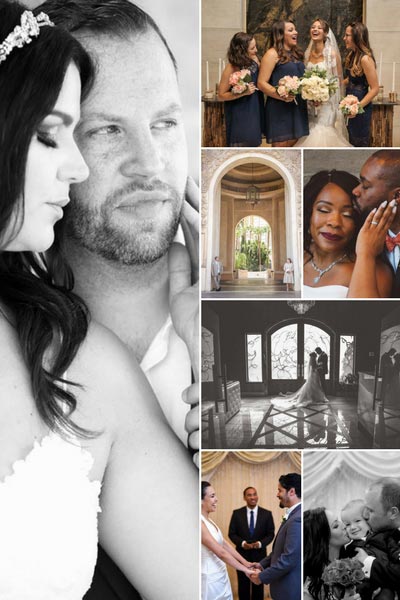 "Do you remember… your wedding day in September?" We shared some amazing #FridayFavorites in September.
OCTOBER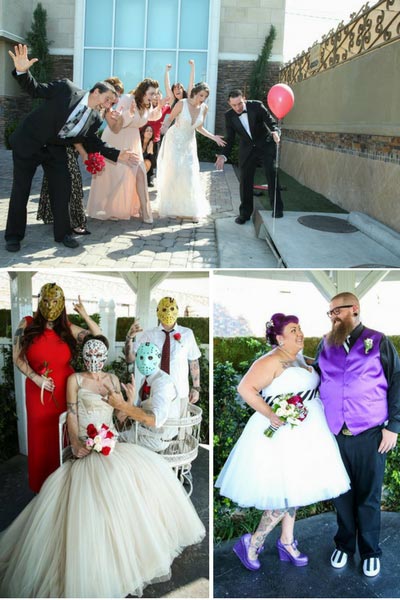 These couples 'killed it' with their Friday the 13th themed wedding!
With prizes, a haunted house, carnival games, costume contests, food, and fun for the family — Our first  Fall Festival event was a success as we donated 100% our proceeds to a neighborhood school.
Another huge milestone – We hit 20,000 Facebook followers!
NOVEMBER
Thank you all who voted Chapel of the Flowers for Best of Las Vegas. We got the Silver award this year for "Best Place to Get Married"!
Thanks Equalli for featuring our blog about Same-Sex wedding planning ideas. Check out our Wedding Blog for LGBTQ Wedding ideas and to view their beautiful wedding rings and bands!
LAnzate Show stopped by Chapel of the Flowers during the Latin Grammys. Watch as Elvis weds Diego Guirado Univision and Fernanda Kelly in their "one-of-a-kind" ceremony.
Incorporate your furry friend into your special day, like this couple — too cute!
DECEMBER
We celebrated the holidays with our annual donation trip to the 98.5 KLUC Toy Drive. Thank you all who donated this year!
Just in time for the new year… check out our new virtual tour just released on Google. You can now navigate around the entire property.
Thank you to all our loving fans and adoring couples that made 2017 unforgettable! We hope you have a great year and we look forward to another spectacular year in 2018!