Vintage weddings are always trending, and next year's vintage will be defined as more glamorous and formal with a Great Gatsby twist. See why we're lovin' roaring 20's themed weddings.
The fashion and style in the 1920s were all about a new rebellion, prohibition, and over-the-top parties. The art-deco patterns, paired with feathers, diamonds, and metallic accents really made the 1920's one of the most iconic and elegant times in history. Here are some of wedding planning tips for creating a glamorous and sophisticated "Great Gatsby" theme wedding.
Glamorous Gatsby-Inspired Wedding Ideas
Great Gatsby Wedding Invitations
Set the tone of your wedding long before the big day! Make sure to incorporate the 1920's theme into your wedding invitations. Metallics are always a safe bet and make sure to have fun with the fonts.
(Photo via Etsy)
 1920s Inspired Wedding Dress and Tuxedo
 Many designers have been taking a nod from this era and creating "Great Gatsby" inspired attire.
 Wedding Gowns for Gatsby Wedding
 Ladies think detailed beading, fringe, and golden tones. Think upscale flapper, and don't be afraid to wear some satin. Here are a few of our favorite Gatsby wedding dress ideas.
This jaw-dropping pearl and beaded gown by Maggie Sottero will make you look like a Gatsby goddess.
(Photo by Maggie Sottero)
Sophisticated art-deco lace of the Alon Livné- "Amber" Lace Wedding Dress will make you the 'Cat's Meow' of your wedding day.
(Photo by Alon Livné)
Silk and tulle create a modern take on a classic silhouette in this Temperley London- Regina Dress.
(Photo by Temperley London)
Channel your inner Roxie Hart from the blockbuster musical, Chicago, in this Eliza Jane Howell- Carlotta Leading Lady Wedding Dress.
(Photo by Eliza Jane Howell)
Tuxedos Inspired by the Roaring 20's
Fellas, 'the prohibition era look' can be easily recreated. The main thing you will need is a sleek and tailed tuxedo with shiny shoes. If you want to have fun with it, consider a pinstripe tuxedo or a tailcoat and top hat with white gloves.
Look refine in this Men's Wearhouse- Joseph & Feiss Full Dress Tailcoat.
(Photo by Men's Wearhouse)
Designer suits straight from the Leonardo DiCaprio film by Brooks Brothers' Great Gatsby Collection.
(Photo by Brooks Brothers)
 

1920s Hairstyles
 The roaring 20's had very iconic hairstyles, that took time to perfect. Make sure you get a professional hair stylist and make-up artist to do your 1920's wedding look.
 Bridal Hairstyles for Gatsby Wedding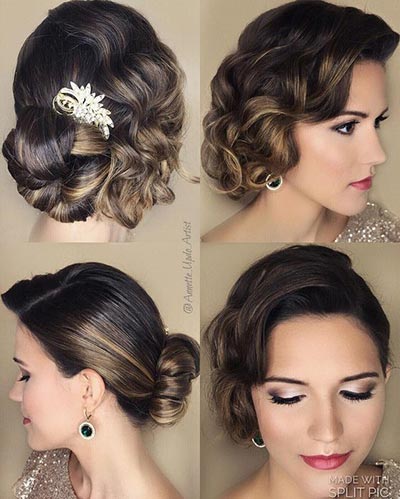 You will look classic and elegant with short finger curls or kiss curls. If style isn't for you, consider a 1920's style 'bob'!
(Photo via @Annette_updo_artist)
And for some extra pizazz, add a jeweled headpiece or other luxurious hair accessories.
(Photo via Etsy)
Groom's Hairstyle from the 1920s
Slick and clean cut with a part on the side is how all men in the 1920's wore their hair for elegant events.
(Photo via YS Studios)
 Glamorous Bridal Bouquets
 The key to achieving that 1920's look is to accessorize your bouquet. Otherwise, it will just look like another organic bridal bouquet.
Consider adding pearls, lace wrap, or rhinestone wrap to your bouquet.
(Photo via Colin Cowie Events)
You can also make your bouquet more elegant by adding a feather collar and diamond accents to your flowers.
Gatsby Themed Wedding Venue
 Location is everything! Make sure you find a venue that can really take you on a trip back to the roaring 1920's! Make sure you incorporate those classic Gatsby colors and accents into your wedding location.
 If you are thinking of getting married in Las Vegas, consider a venue like the La Capella Chapel at Chapel of the Flowers. It's stunning gold accents, dazzling glass chandeliers, and coffered ceilings are perfect for a Great Gatsby themed wedding.
Roaring 20's Wedding Reception
 Keep the theme going all night by decorating your reception with classic 1920's style.
You wouldn't dare to have a buffet during the 1920's; you had at least 3-course plated dinners served by the finest dressed wait-staff.
A centerpiece is the easiest way to display a wedding theme. By adding metallics, feathers, and glitz; you can turn any reception location into a 1920's grand hall.
(Photo via Lucky Penny)
Add some pizazz to your wedding reception with your table linens. Sequins and gold is always a great Gatsby wedding decor option.
(Photo via Belle the Magazine)
Lavish Wedding Cake
 Don't forget to top the night off with a toast of champagne and delectable wedding cake.
Candy pearl accents dusted gold, and a creative cake topper will make your wedding scream "Roaring 20's."
(Photo by Carla Atley)
 Get jazzy in 2018 with a vintage theme wedding that will wow your guests. If you are dreaming of a retro 1920's wedding at Chapel of the Flowers, our wedding planners can help you arrange your wedding flowers and pick the perfect all-inclusive package for your big day!