The holiday season is fast approaching… Thanksgiving, Christmas and New Year's! Which means you will be visiting the family with your boyfriend/girlfriend, and of course "the talk" of when you will be getting engaged will come up just a couple of times. The holidays are the most popular time-of-the-year to pop the question, and you don't want to be blindsided. Think outside the box with these amazing marriage proposal ideas.
Getting engaged can be stressful. Will they say "no" or will they say "yes". With our help and a little planning, you will get the answer you have been waiting for.
5 Proposal Ideas
1. For the Adventurous Couple: Scavenger Hunt
This is awesome for couples that come from the same hometown. Set up clues around town and get your friends/family to involved. (Example: a clue can be, the first place we met. The answer could be a specific Starbucks. They would go to that location and get the next clue from a family member/friend). The finish line could be a place that you and your soon-to-be fiancé cherish. Decorate it romantic, and when they arrive ask them to marry you. Here is a great example of how it is done.
2. For the Simply Sweet Couple: Ornamental Proposal
Get together with the family and decorate a Christmas Tree.
STEP ONE: Make sure you are handing your boyfriend/girlfriend the ornaments to place on the tree.
STEP TWO: Put the engagement ring on one of the ornaments and hand it to them casually.
STEP THREE: When they realize, what is on the ornament, get down on one knee.
STEP FOUR: Ask "Will You Marry Me?"
 3. For the Nerdy Couple: Bookworm Proposal
Since your significant other will be expecting a gift for Christmas, find out which book is on their "Must-Have" list for Santa. Get two copies in the hardcover version (one to gift, and one for the proposal). The book that you will use for the proposal, use an Exacto knife and cut a square in the center of each page from the first page to about the end (leave extra pages near the end). Attach a ribbon to one of the pages near the middle, and hang the engagement ring in the center of the book.  When they open the "gift" on Christmas/Hanukah, they will have their new favorite novel and a proposal.
4. For the Social Couple: Share Your Story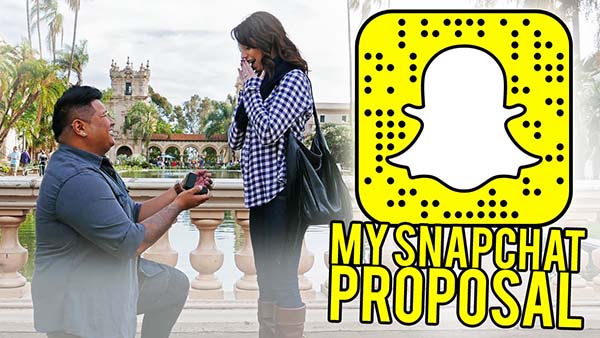 SnapChat and Instagram have a great "Story' feature that allows you to share images and 10-second videos for 24-hours in a story format.
STEP ONE: Figure out where you want the proposal, and tell a friend your plan (this will come into play later). Tip: You should pick an easy location that both you, your loved and friend will be able to access at the same time on the day of the proposal.
STEP TWO: Start collecting your favorite 10-second videos/images of your sweetheart. Compile a mix of videos/photos on your phone but don't load them on SnapChat or Instagram until you are ready to propose.
STEP THREE: On the day of the proposal, decorate the space you plan to propose, and make sure your girlfriend/boyfriend doesn't see it.
STEP FOUR:  About 10 minutes before proposal, excuse yourself from your gathering, and go to the proposal location. During this time, start to upload all the photos and videos that you have collected to a "Story" on Instagran or Snapchat.
STEP FIVE: Make TWO final 10-second videos to upload to the end of your "Story". The first video will be about how you feel waiting to propose, and the second video you will ask them to come find you.
STEP SIX: Make sure your friend suggests to look on Instagram or SnapChat, so they come and find you. When they do find you. Have your friend record 10-second videos of the reaction and post them to the "Story" after they say "Yes".
5. For the Hipster Couple: View-Master Proposal
Create a custom slideshow on the iconic View-Master, and share this 1980's toy with your partner. As they click through your favorite memories, the last reel will have a photo of you holding a sign that says, "Will You Marry Me?". Tip: Make sure the first photo is in place before handing-off to your potential fiance. Otherwise they won't get the full effect.
After you have popped the question, and they accept your proposal… you will need to start planning the big day! Chapel of the Flowers, in Las Vegas, has a variety of venues, packages and prices great for any budget and style. Couples that desire a Las Vegas wedding, contact our wedding planners today for your custom quote.