Every year couples struggle to pick the best wedding date for their upcoming nuptials, and every year experts are predicting what dates will be the most popular, lucky, or best bargain. If you are thinking of getting married in Las Vegas, our wedding planners have shared what they feel will be the best wedding dates of 2018.

Couples flock to Vegas every year to tie the knot! Whether it's an elopement or destination wedding, more and more couples are noticing what a great place Las Vegas can be for weddings. The only problem is that most couples are not locals and are unaware of what the best and worst wedding dates for Las Vegas.
There are many things to consider when picking your date in Las Vegas — weather, convention schedules, events in town, and holidays. These can factor into airfare and higher hotel rates.
Best Season to Get Married in Las Vegas
One thing to keep in mind is that Las Vegas is a desert! Unlike most places, Las Vegas has very specific temperatures in relation to the seasons. Summers in Las Vegas tend to be very hot, and Winters tend to be quite cold. It is essential to plan accordingly based on the type of weather you and your guests are accustomed to.
Spring (March – Mid May): Great weather, can be rainy at times. Everything is blooming and beautiful.
Summer (Late May-August): Very hot but great for couples that enjoy the pool, lots of festivals, and events.
Fall (September – November): Best weather, getting cooler from the hot summer. Crisp air and beautiful sunsets.
Winter (December – February): Cold and a little rainy, but nothing too bad (it is the desert and we don't get a ton of rain). Less busy on the Strip and great rates for wedding packages (Winter months are considered off-season dates). Hotels and airfare are cheapest during Winter months. Book your winter wedding, and get more bang for your buck!
Locals Tip: Winter in Las Vegas tends to have the rainiest days, however, Monsoon season (late June- September) has to most severe thunderstorms and prone to flash flooding.
There is something for everyone, and with outdoor and indoor venues, you can't go wrong with a Las Vegas wedding.
Monthly Las Vegas Climate Information
| | | | |
| --- | --- | --- | --- |
| MONTH | HIGH | LOW | PRECIPITATION |
| January | 58° F (14° C) | 34° F (1° C) | 0.5 |
| February | 63° F (17° C) | 39° F (4° C) | 0.45 |
| March | 69° F (21° C) | 44° F (7° C) | 0.4 |
| April | 78° F (26° C) | 51° F (11° C) | 0.2 |
| May | 88° F (31° C) | 60° F (16° C) | 0.2 |
| June | 100° F (38° C) | 69° F (21° C) | 0.2 |
| July | 106° F (41° C) | 74° F (23° C) | 0.45 |
| August | 103° F (39° C) | 74° F (23° C) | 0.55 |
| September | 95° F (35° C) | 66° F (19° C) | 0.3 |
| October | 82° F (28° C) | 54° F (12° C) | 0.25 |
| November | 67° F (19° C) | 43° F (6° C) | 0.45 |
| December | 58° F (14° C) | 34° F (1° C) | 0.3 |
Conventions, Festivals, and Events in Las Vegas 2018
Las Vegas is known for its wide selection of entertainment, shows, and events all year round. From your favorite artists' concerts to high profile boxing matches, there is always something going on in Las Vegas. Consider pairing your wedding with some of your favorite events or make sure to look out for those that you may find undesirable.
Travel Tip: Make sure to check upcoming events as this can affect hotel and airfare accommodations and can fluctuate daily.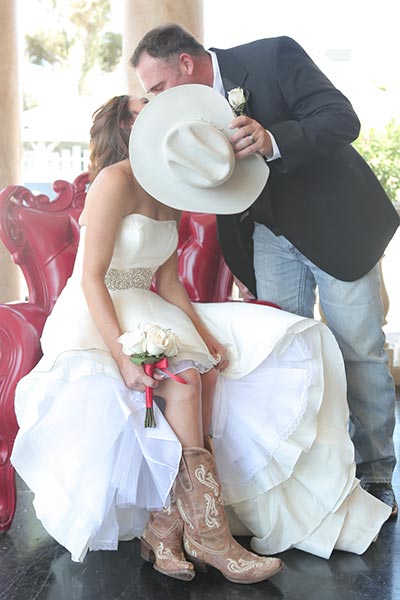 Upcoming events in Las Vegas for 2018

:
Las Vegas Conventions
Consumer Technology Convention- CES: 1/9/2018-1/12/2018 (175,000 attendees)
Adult Entertainment Expo- AVN: 1/24/2018-1/27/2018 (25,000 attendees)
Las Vegas Market- Winter 2018: 1/28/2018-2/1/2018 (50,000 attendees)
Shooting Hunting & Outdoor Trade Show (SHOT): 1/23/2018-1/25/2018 (64,500 attendees)
World of Concrete: 1/23/2018-1/26/2018 (60,000 attendees)
MAGIC Marketplace Spring Show 2018: 2/12/2018-2/14/2018 (83,000 attendees)
ASD Las Vegas: 3/11/2018-3/14/2018 (46,000 attendees)
Nightclub and Bar Show 2018: 3/27/2018-3/28/2018 (39,000 attendees)
National Association of Broadcasters 2018: 4/9/2018-4/12/2018 (103,000 attendees)
RECon 2018: 5/20/2018-5/23/2018 (37,000 attendees)
JCK Las Vegas 2018: 6/5/2018-6/8/2018 (39,000 attendees)
Las Vegas Market- Summer 2018: 7/29/2018-8/2/2018 (50,000 attendees)
MAGIC Marketplace Fall Show 2018: 8/13-8/15 (85,000 attendees)
For a full list of conventions, click here.
Las Vegas Events and Festivals
Savings Tip: Travel accommodations and wedding packages tend to be most affordable during the week. Look into having a weekday wedding and save some money!
Popular Wedding Dates for 2018
Once you have found what time of year works best for you and your guests, consider some of these trending wedding dates:
Palindrome Dates for 2018
These are dates that can be read the same way backward and forwards! Here is a list of the palindrome dates happening in 2018:
Wednesday, 8/1/18
Friday, 8/10/18
Saturday, 8/11/18
Sunday, 8/12/18
Monday, 8/13/18
Tuesday, 8/14/18
Wednesday, 8/15/18
Thursday, 8/16/18
Friday, 8/17/18
Saturday, 8/18/18
Sunday, 8/19/18
Wedding Date by Numbers
One of the most popular dates of the year will be 8/8/2018 since it is easy to remember and reminds people of the infinity symbol.
If you are into numbers,  consecutive dates such as 1/8/18 are predicted to be popular. Perfection sum dates, like Friday 2/16/18 (2+16=18), 4/14/18 (4+14= 18), 8/10/18 (8+10=18), and 9/9/18 (9+9=18)
Holidays in 2018
You can look at holidays in Vegas one of two ways. You can come during the holiday weekend to get extra days to enjoy your wedding, or you may want to avoid these wedding dates because of the influx of travelers to Las Vegas during these times.
Wednesday, 2/14/2018- Valentine's Day
Friday, 2/16/2018- Chinese New Year
Saturday, 3/17/2018- Saint Patrick's Day
Saturday, 5/5/2018- Cinco de Mayo
Monday, 5/28/2018- Memorial Day
Monday, 9/3/2018- Labor Day
Sunday, 9/16/2018- Mexican Independence Day
Monday, 10/8/2018- Columbus Day
Thursday, 11/22/2018- Thanksgiving (Most venues are closed so 11/23 would be best)
Sunday, 12/31/2018- New Year's Eve/ New Year's Day
Lucky and Unlucky Wedding Dates in 2018
If you are looking for a wedding date that will bring you luck, consider a date with the numbers 8 and 9. The Chinese consider dates that include these numbers to be fortunate. For those not superstitious and looking for a date that is considered "unlucky", Friday the 13th is always your best bet. Look out for these dates twice in 2018 in April and July.
Picking the perfect date can be just as hard as picking the perfect partner! Let a Chapel of the Flowers wedding planner help you pick your special date and take your vision to the next level. Las Vegas is a destination of endless possibilities no matter what time of year! Contact Chapel of the Flowers today and reserve that special day before it is too late!