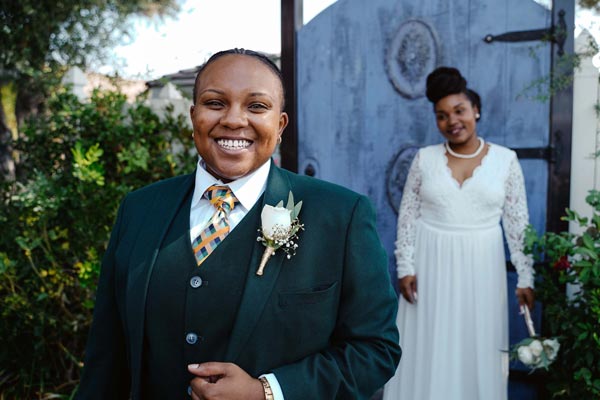 So you're going to seal the deal in Vegas – congratulations! – but for whatever may be the reason, you don't have a marriage license just yet and are looking to get one in Las Vegas. I'm sure you have quite a few questions:
What comes next?
What do I do without one?
How do I get one?
Do I really even need one for getting married in Vegas?
Is it expensive?
How long does it take?
Can you take care of it the day of the wedding?
Rest assured – this article will answer most of those questions. (Most of these answers as well, keep in mind, are in reference to the state of Nevada in general, but if you're in another state, chances are the answer might be very similar but call your local courthouse to find out)! Additionally, if you've already got your marriage license from another state and it is still valid, you're ready to begin planning your wedding ceremony! Take a look at our best wedding dates and dates to avoid post for some ideas on timing.
The main question is – Can you get married without a marriage license? The short answer is technically no, (at least not legitimately or legally) but not all hope is lost if you don't have one just yet. Keep reading for further answers.
But do I have to?
The next question people typically ask, as I did when I was about to get married, is do I really need one before the ceremony? This answer is yes because, as I mentioned above slightly, to legitimately or LEGALLY be married, your minister or officiant conducting your ceremony will need this document in order to facilitate marrying you and said beloved. Failure to give the officiant this document would result in them committing a potential misdemeanor depending on what state you're in. If you have any well-informed officiant, they will also ask you this beforehand too. So don't plan on getting it "after the ceremony" since that is not technically legally possible.
Where in Las Vegas should I get one?
So how does one obtain this mysterious, seemingly intangible piece of paper in the fabulous city of Las Vegas? Well, in Nevada, our Clark County website will allow you to apply for one ahead of time, as long as it's within 60 days of the ceremony.
Now, what's the difference between applying ahead of time for a marriage license online and walking down day-of to get a license at the Clark County Courthouse? If you've applied online, you can simply pick up the license with both parties present, showing valid ID and paying the fee there once you arrive – about a half hour process. Without applying first online and instead accomplishing all steps in person, the whole process probably takes an additional half hour for the paperwork BUT don't forget to take in account for other couples ahead of you that day.
Another important question – what is the price of a marriage certificate in Nevada? The current and updated price as of 2022 is $102, including fees. They do accept credit as well.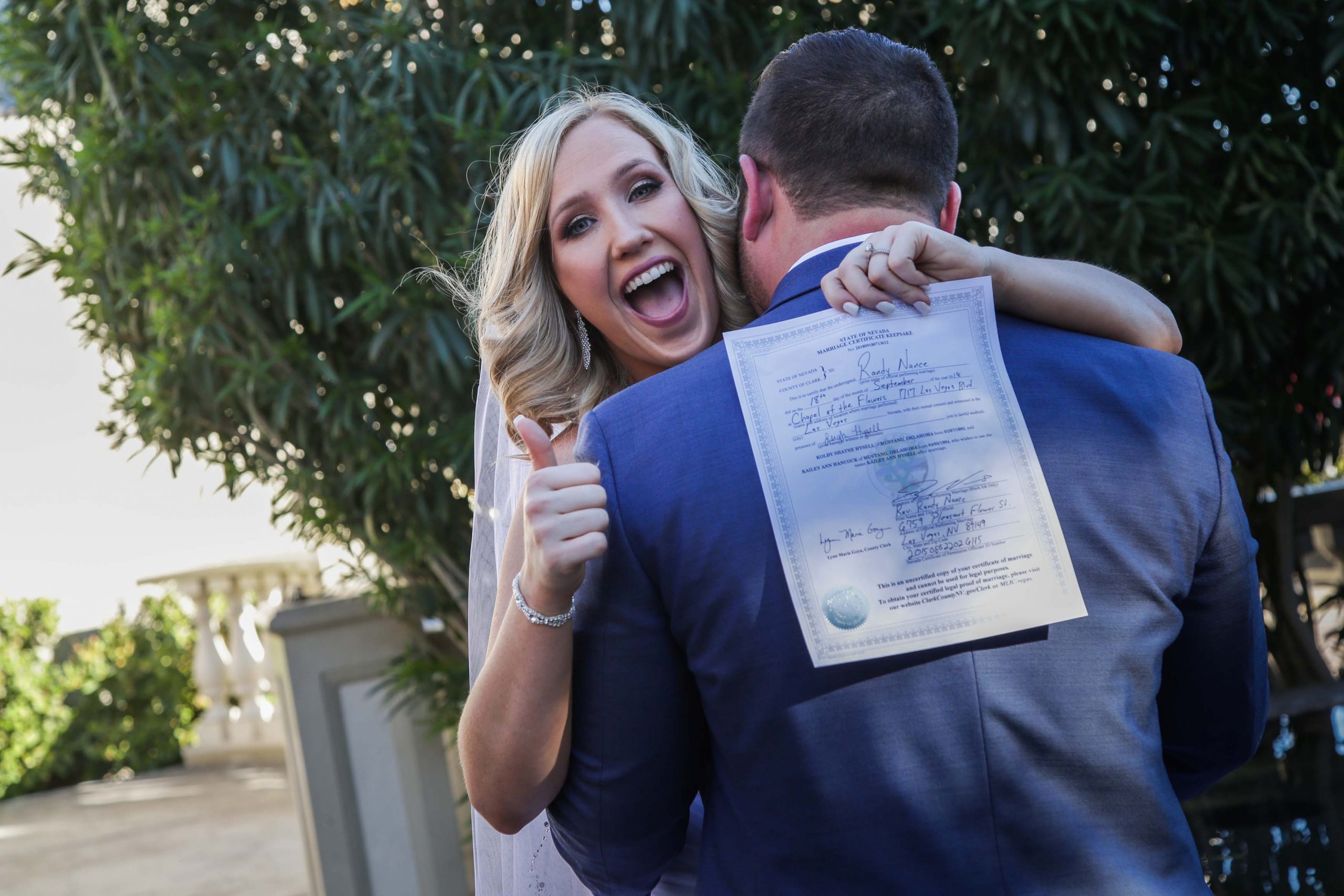 Can I get one right before the ceremony, or is that cutting it too close?
Rest assured, all of this can be taken care of the very same day before your ceremony that you have booked. Just make sure to give yourself plenty of time before your booked ceremony whether it's at The Office of Civil Marriages or at a chapel. But if you're planning on walking into a chapel after receiving your license, that can be done too! Which obviously gets around the time constraints but make sure to call ahead with your chapel to make sure they accept walk-ins because not all do in Las Vegas. (That's right – funny enough, not all chapels in Vegas are willing to perform your classic "what-happens-in-Vegas-stays-in-Vegas" drive-by wedding).
Lastly, what do you need present to officially get married? Well, obviously the license plus an officiant with at least one witness present.
What happens if I really can't get one in time?
But even so, after all this information, you may ask still, "do I REALLY absolutely need one for my Vegas wedding?" What if you forget it back in your home state? What if you had planned to get it before the ceremony but ran out of time and now you've got all these people invited to a ceremony at a certain time? Well, at last resort if that's your situation, you may opt to convert your marriage ceremony into a commitment ceremony by letting your officiant know. Be sure to ask if anything in pricing changes because of this – as that might be affected. (On a different note, if you have family that can't make your Vegas wedding, read our blog on having family attend virtually here: Virtual Wedding Guide: Everything You Need to Know
And yes, you'd still additionally have to perform some sort of marriage ceremony, whether it's in Las Vegas or back home, after you've got your license to be recognized as legally married – but at least that's a way to still have some sort of ceremony where all your guests don't have to be rescheduled, especially if they came from out of state to Vegas just for your wedding. In that case I'd suggest booking a quick marriage ceremony a few days later at The Office of Civil Marriages that was previously mentioned above.
What if I just want a "courthouse wedding?"
This segways into one more question you might have: Since I'm getting my marriage license at the Clark County courthouse, can they perform a simple marriage ceremony immediately after if I'd like to get my ceremony taken care of straight away? Well – not if you don't set it up separately through their third-party through The Office of Civil Marriages. Also, it's at a building down the street from the courthouse (the Las Vegas courthouse itself that you pick up the license from doesn't hold weddings at all). This is the closest thing to a true "Courthouse Wedding," that people would refer to, at least for Las Vegas. Keep in mind it is a very quick ceremony, in which you may invite a few guests, and it probably takes about thirty minutes from start to finish. Some might consider this a "shot gun wedding" and for others this is perfect! The room used is bare minimum and nothing fancy, I must warn. But again, maybe this is what you're looking for.
If you do have a courthouse wedding, make sure to utilize the Las Vegas Strip for photos of your special day together! Read our Must-Have Wedding Photos for Your Las Vegas Wedding here: Must-Have Wedding Photos for Your Las Vegas Wedding. There are so many beautiful spots on the Strip that you and your beloved can adventure off to for a photo-op!
Let's plan it!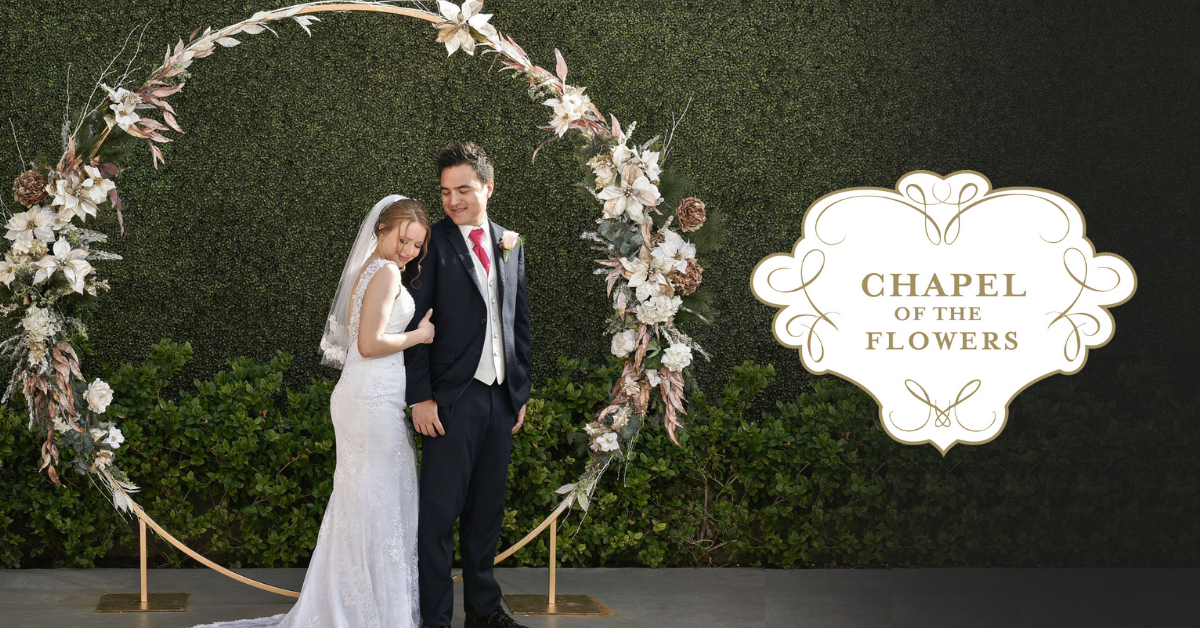 Finally, if you're looking to book a Las Vegas wedding OR (if you want to get married without a marriage license) commitment ceremony that's maybe slightly short notice and are not looking to spend an arm and a leg on a ceremony BUT are also not wanting to sacrifice the beautiful and glamorous aspects of a wedding ceremony –  check out our Las Vegas wedding chapels page and our Las Vegas wedding packages page.