What would be your fairy tale wedding destination? Ever thought about having your wedding outside a chapel or church? For Rachael and Philip, they had a destination for their wedding that not most would even attempt. They decided to trade the cold weather of Ireland for Nevada's sun and warmth. And what better location than the Valley of Fire?!
The couple enjoyed a comfortable ride from their hotel to their destination with experienced driver David at the wheel.
The stunning red sandstone enveloped the playful couple as they recited their vows to each other.
Rachael was positively glowing in her off-shoulder, embellished gown while Philip rocked an iridescent violet button-up shirt under his tailored suit.
Their intimate ceremony was enhanced with a magnificent extended photo shoot and cider toast. Look at that perfect captured photo of the sun "shining" on this lovely couple.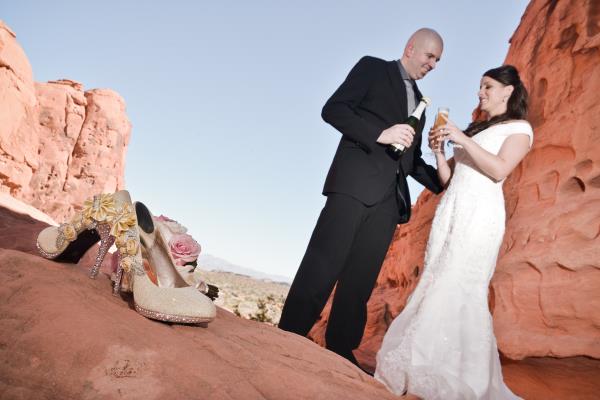 Chapel of the Flowers' photographers, Philip and Irving, did such a fabulous job highlighting every emotion that we can absolutely feel the love jumping out of their photos.
Rachael said of her experience, "I want to get married again just to have another best day of my life… Definitely the best fairy-tale wedding. Thank you for making it happen."
Thank you Rachael and Philip for letting us be a part of your wedding day! We wish you two all the best!!