Fall is full of wonderful things – Halloween, pumpkin spice lattes, cozy sweaters and fuzzy socks, autumn leaves – but our favorite thing about the season is Fall Weddings. Whether you are looking for a rustic-chic barn-inspired ceremony or a glamorous and glitzy celebration in your favorite season, the wedding planners at Chapel of the Flowers have the best tips and tricks on how to achieve the perfect Fall Wedding. Sit back and relax as you scroll through our top fall wedding ideas.
Fall Wedding Ideas
We've all seen pictures of Fall Weddings that we've fallen in love with, but how do you turn your own big day into an autumn-inspired wedding? All it takes are a few magic ingredients to transform your autumn wedding into a Pinterest-worthy affair to remember.
Fall Wedding Color Palettes
The easiest way to set the mood for your Fall time wedding is by picking the perfect color palette – from there, your wedding design will take shape. Fall comes along with a variety of beautiful dark hues and complimenting light shades that you can integrate into your wedding.
There are a million color combinations, but here are three that we think really stand out.
(Photo via Emma Loves Weddings)
(Photo via JessicaGarda.com)
(Photo via ElegantWeddingInvites.com)
Pro-Tip: Use your favorite fall hues to link together every aspect of your special day. From the invitations to the linens at the reception and everything in-between, using one pallette will add another layer of beauty to your wedding design.
Fall Wedding Dresses
In past years, we have seen brides wear lots of lace for their fall wedding.  This year we see that long sleeves, detailed applique overlays, and champagne undertones are the must-have wedding gown trends.
Long Sleeve Wedding Gowns
(Photo via EssenseDesigns)
(Photo via WearYourLove)
Gowns with Applique Overlays
(Photo via David's Bridal)
(Photo via David's Bridal)
Champagne Wedding Dresses
(Photo via Badgley Mischka)
(Photo via David's Bridal)
Pro-Tip: Depending on where you live and the time of your ceremony, it's safe to assume it'll be chilly outside! Due to this,  plan for the weather by selecting a wedding dress with a bit more fabric, like a cap-sleeve, off-the-shoulder, or even long sleeve. The extra few inches will help to keep you nice and toasty on your big day.
Fall Tux & Suits
There is something so classic about a man in a well-tailored suit or tuxedo. Men's fashion hasn't changed too much over the past century, but in the past decade we have seen more fabric selections, prints, and color available for men looking to add their own personality into their attire.
Grooms, we challenge you to turn some heads during your wedding, and add a little flair with a pattern tie, or color suit! Here are some great fall-inspired looks for your wedding.
(Photo via Stay Classic)
(Photo via Virginia Photography)
(Photo via Emily Nicole Photo)
Fall Hairstyles & Make-Up
If you are getting married in fall, take advantage of the season with your hair and makeup! This fall, we are seeing relaxed, boho-chic hairstyles pop up. Whether you choose a flower crown, loose, relaxed curls, a braided bun, or traditional updo – choose a hair and make-up style that fits your personality and overall wedding theme.
Wedding Hair Ideas
(Photo via Happy Wedd)
 (Photo via Regina Makeup Blog)
(Photo via Oh Best Day Ever)
Pro-Tip: We all know beauty is pain, but you deserve to slay AND be comfortable on your wedding day! Make sure the hairstyle you choose will be comfortable to sport for the entire event.
Wedding Make-up Ideas
(Photo via ShineCosmetics.com)
(Photo via Jon Cu)
(Photo via Elena Sanko Make-Up)
Fall Wedding Flowers
One of the best ways to tie in your wedding colors is through flowers. Flowers can bring your Fall themed wedding full-circle. The beautiful thing about floral arrangements is that they can be completely customized. There are millions of different types of flowers and greenery, which come in a variety of colors and sizes, that can be incorporated into a beautiful floral arrangement.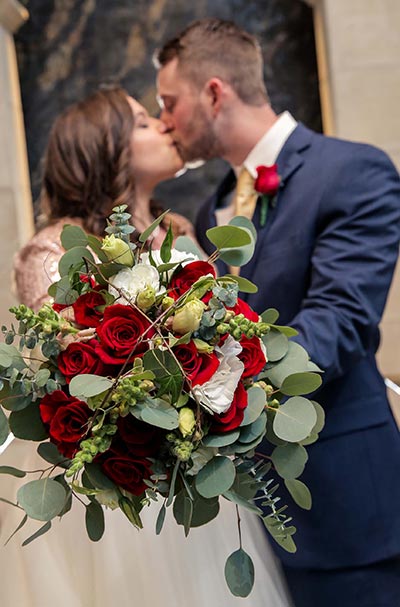 Pro-Tip: Make sure all your arrangements, boutonnieres, and floral décor feature the same flowers, greenery, and color scheme to create a cohesive look – and don't forget to have fun with the design!
Fall Bridal Bouquets
When it comes to creating the perfect fall bouquet, think robust and oversized, with many textures. This year we are seeing dahlias as the main focus for fall bouquets. Another fall favorite combo this season: white anemones and succulents, paired with hanging amaranthus and seeded eucalyptus, with feathers or wheat added to complete the look!
(Photo via Fab Mood)
(Photo via Allison Conklin)
(Photo via Brides Up North)
(Photo via Engaged)
Fall Boutonnieres
(Photo via This Modern Romance)
(Photo via Jieru Photography)
(Photo via Courtney Newbauer Photography)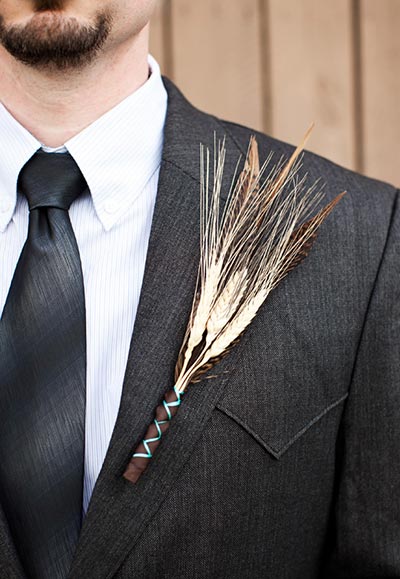 (Photo via Cali Ashton Photography)
Fall Bridesmaids Bouquets
You can't forget about the bridal party, either! These ladies have stood by you through thick and thin, and they deserve to hold some pretty flowers. Take a staple flower from your bouquet and use it as the base for the bridesmaid's bouquet.
(Photo via Jieru Photography)
Wedding Trend Alert: Floral Hoops aren't just beautiful ceremony and photo session backdrops! Bridesmaids are now holding miniature versions as they walk down the aisle.
(Photo via Hattie Magazine Wedding)
(Photo via Wom The World)
Fall Wedding Venue
Fall is all about enjoying the outdoors and the beauty it has to offer, which is why fall weddings have become such a popular season to say "I do". Over the past decade, we have seen couples choose barn weddings for their homey ambiance. Recently, the barn wedding has morphed into the rustic-chic wedding that is so popular today. Rustic-chic wedding venues offer the perfect, organic garden atmosphere that'll make you feel like you are getting married inside a fairytale.
Chapel of the Flowers' Glass Gardens is a perfect rustic garden venue for couples who desire to include the beauty of the season inside a climate-controlled, customizable space!
Fall Wedding Decor
Complete your Fall wedding with décor that will tie everything together. Your ceremony and reception décor will show your personality and solidify the overall theme of your wedding. From festive pumpkins to gorgeous lanterns, you can create a welcoming atmosphere with these fall décor options.
Fall Wedding Ceremony Decor
Fall Wedding Reception Decor
(Photo via Heather Nan Photography)
(Photo via JuneBugWeddings)
(Photo via Melissa Marshall)
(Photo via Weddingomania)
Chapel of the Flowers is an award-winning, all-inclusive wedding chapel located on the Las Vegas Strip. Whether you are looking for an intimate ceremony for two, or an extravagant celebration for your closest friends and family, our wedding planners are eager to help you create the wedding of your dreams. Our team of highly-trained professionals handle every aspect of your special day – from professional photography to day-of coordination and everything in between. For more information on our current wedding specials or beautiful on-site venues, contact us today!