Las Vegas is known for its multitude of fine dining restaurants. With so many options, how do you know what upscale restaurant to select for your one-of-a-kind Las Vegas wedding reception? Luckily, Chapel of the Flowers recently partnered with a historic and world-famous Steakhouse to make your decision easy and delicious.
Art-Deco Wedding Reception
The welcoming atmosphere of this art-deco inspired wedding reception location will take you back to the 1920s – a time known for spirits, hospitality, and wholesome dishes. Your guests will wine and dine while creating unforgettable memories at this unique reception venue.
Fine Dining
This steakhouse is known for exceptional service and a top-quality selection of prime rib and seafood, perfect for creating your very own 3-course prix-fixe menu (available in both lunch and dinner options). Though this is a restaurant known for premium meat selections, vegetarian and other dietary restrictive options are available upon request.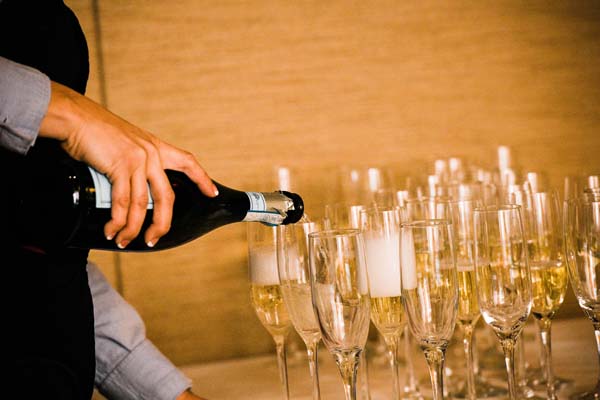 Live, Laugh, and Celebrate! Have the ultimate experience by adding a Bar Package to your reception menu. Bar Packages including liquor, house wines, bottled beer, and draft beer can be added to any menu for up to 3 hours to complete your special day.
Don't forget the cake! After all, the best way to finish any dinner is with a sweet treat – and what's more delicious than a custom-made wedding cake? Enjoy one of the fantastic and affordable cake options Chapel of the Flowers has to offer, or bring your own wedding cake or cupcakes to enjoy with your loved ones.
Wedding Reception Locations
Enjoy the inviting atmosphere featuring rich wood tones and art deco designs while you and your guests feast on a wide array of fine dining options. Add your own personal touch with custom centerpieces and floral décor, made by our very own team of talented florists.
With five private and semi-private room options to choose from, the Classic Steak & Seafood Restaurant has a space for groups of every size.
If a traditional reception with linens, space for dancing, and a DJ are the required components for your dream reception, look no further than this venue! This steakhouse can comfortably hold up to 175 of your closest friends and family.
Need something more intimate? There are 5 private rooms, each of which can accommodate up to 36 guests. Each dining room has a retro feel; from a fireplace and wine wall in the Silver State room to the wood beams and French doors in the Vintage room, this reception location is sure to act as a time portal taking you back to the epitome of class and elegance.
Whether you are looking for a Great Gatsby venue for your reception, or simply seeking exceptional cuisine for your special day, this fine dining restaurant is a one-of-a-kind location for a rehearsal dinner, farewell lunch, or grand reception.
Have the ultimate Las Vegas wedding at Chapel of the Flowers. With all-inclusive wedding package options including professional photography, wedding flowers, hotel stay, transportation and more, the dedicated team of wedding professionals at Chapel of the Flowers can help you plan the wedding of your dreams.
Looking for more reception venues? Chapel of the Flowers has partnered with many of the best restaurants on the Las Vegas Strip, including a Trendy Downtown Grille, Stylish and Casual Café, unique Hollywood Glam Reception location, and more! For more information about our wedding amenities, reception locations, and packages, contact us today.