Wedding Cakes
Elegant Las Vegas Wedding Cakes
Our beautiful wedding cakes are a sweet treat for your Las Vegas Wedding. Whether you're having a large wedding reception or a small celebration, our wedding planners can book the perfect wedding cake to celebrate!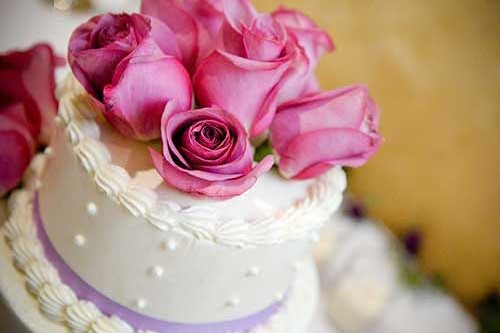 Our Romantic Wedding Cakes
Don't miss out on one of the most delicious wedding traditions. Our delectable desserts come in a variety of sizes, flavors and types. Couples can arrange to have their dessert order to take straight from the Chapel, or have it delivered to their reception venue.
Serving Information
6" Single Tier: Serves 4-8
8" Single Tier: Serves 10-15
10" Single Tier: Serves 15-25
6" x 8" Two Tier: Serves 18-25
6" x 10" Two Tier: Serves 25-35
6" x 8" x 10" Three Tier: Serves 40 -50
6" x 9" x 12" Three Tier: Serves 60-75
6" x 10" x 14" Three Tier: Serves 80-100
Flavors: Banana, Carrot, Chocolate, Chocolate Chip, Lemon, Marble, White, Yellow
Fillings: Amaretto Cream, Bavarian Cream, Chocolate Bavarian Cream, Chocolate Fudge, Cream Cheese, Lemon, Fresh Strawberries (Additional Charge, Seasonal), Mocha, Pina Colada, Pineapple, Raspberry, Strawberry, Chocolate Mousse, Hazelnut Cream
Icing: Butter Cream, Ivory Butter Cream, Chocolate Butter Cream, Whipped Cream (Seasonal)
Trim: Icing Dots, Icing Swirls, Smooth, or Rustic
Ready to Plan your All-inclusive Las Vegas Wedding Package? Get Started

Get Started
;