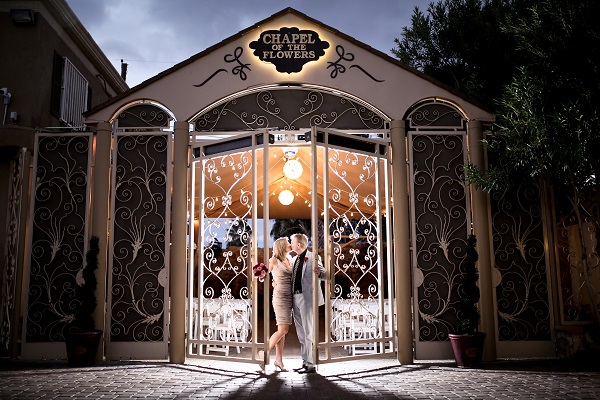 Looking for an elegant chapel in Las Vegas for your destination wedding, commitment ceremony or vow renewals? Only Chapel of the Flowers has received top reviews on The Knot, TripAdvisor, Wedding Wire, Google+ and Facebook, and has been helping couples celebrate love for over 60 years. And we're not talking about just a few brides and grooms sharing their ratings. The Chapel of the Flowers TripAdvisor page alone has over 1,400 reviews from members around the world, and nearly five million (5,000,000) have viewed.
If you're dreaming of an intimate and legendary Las Vegas wedding experience that is stress-free, look no further than Chapel of the Flowers, the top reviewed and most beautiful free-standing wedding venue on the Las Vegas Strip. Contact a wedding planner now at (702) 735-4331 to book your indoor ceremony at the classic Victorian Chapel, the Italian La Capella Chapel or the modern and chic Magnolia Chapel. If you desire an outdoor chapel, consider the unique Glass Gardens, ideal for summer weddings with seating for up to 70 guests. The sophisticated Gazebo is ideal for smaller weddings. The entire Chapel of the Flowers property features several idyllic spots for wedding photos, including the Crystal Canopy, numerous water features, gardens, and the famous red chair.
Visit our Facebook page to see the latest award-winning photography and floral designs, too!