Picking the best location to say "I do" is probably one of the most difficult decisions that you will need to make during your wedding planning process. Do you choose a local venue or destination? Indoors or outdoors? Traditional or modern venue? With so many different Las Vegas wedding  chapels to choose from, how do you determine which is the right venue for you?
In Las Vegas, most tourists and locals opt to get married in a stand-alone chapel or large casino resort on the Las Vegas Strip. So how do you choose? It all depends on what is important to you as a couple. Here are five things to consider when choosing your Las Vegas wedding venue:
Ease of Finding the Chapel
Chapel of the Flowers: We are located on the Las Vegas Strip and very easy to find. It takes only 10-15 minutes to get to Chapel of the Flowers from any of the hotels located on the Las Vegas Strip. Once you are on property, the chapel staff will escort you and your guests to the ceremony location on-site. Added bonus: you can drop off guests who need extra assistance directly in front of the chapel, and there is no need for an elevator or escalator.
Casino Resort: Guests will be able to find the Casino Resort on the Strip easily, but good luck finding the wedding chapel once you are inside. Most resorts on the Las Vegas Strip are so large they don't have proper signage for the chapel when you walk through the doors. Even after getting directions from a staff member, you still need to find and walk (what seems like forever) to the get to their chapel. Navigating the casino floor is confusing for guests with walkers or in wheelchairs and some guests may even get lost and not make it to your ceremony on time.
Smoking or Non-Smoking?
Chapel of the Flowers: Our chapels are non-smoking venues. Guests may smoke on property but only in designated outdoor areas.
Casino Resort: You and your guests will have to walk through a smoke-filled casino floor to arrive at the wedding chapel. Do you really want your wedding gown, tuxedo and guests to smell like smoke? Also consider the health of your guests who are allergic to smoke, have asthma or require an oxygen tank.
What are You Really Paying For?
Chapel of the Flowers: We have created upscale, elegant Las Vegas wedding and vow renewal packages for every budget. Basic packages with romantic features start at $350, but we also offer several other lovely ceremony packages that will fit every budget, including the elaborate Bella Eleganza for the couple who desires the ultimate ceremony package. We can create either a sweet and simple or exquisite wedding day experience, and everything in between, personalized for any couple.
Casino Resort: The majority of upscale Las Vegas Casino Resorts on the Strip have basic packages starting at $1,500- $2,000, Monday through Thursday; some even start at $3,000 for the most simple of ceremonies. Weekend pricing is even higher. The amenities of the resorts' basic packages (starting around $1,500) offer less than Chapel of the Flowers' upgraded packages that are approximately $900. At most resorts you will pay a premium price, solely based on the name of the resort.
Celebration Selection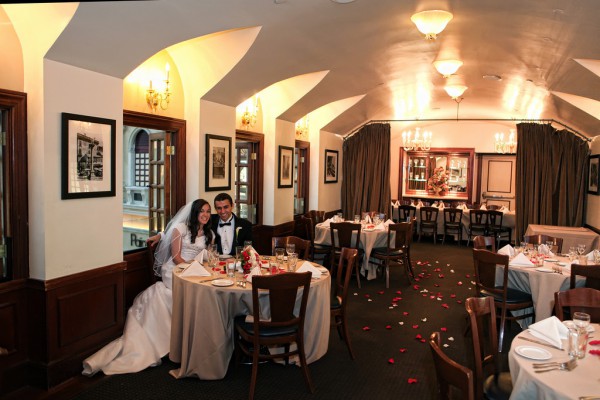 Chapel of the Flowers: We have partnered with many restaurants and reception venues for any style of wedding. Desire a traditional reception with dance floor, or a modern cocktail style reception? We have you covered. We can also arrange small semi-private celebration dinners and work with almost any reception budget. Our expert wedding planners will match you to a reception venue that meets your needs and budget.
Casino Resort: If you want a reception and ceremony at the same resort, you will need to work with the restaurant or food and beverage department to book the reception. If you picked an upscale hotel for your ceremony, most likely their restaurant/ballrooms will have a high-end "entry" price point just for the room, and additionally will require a food and beverage minimum to book. If you are working within a budget and can't afford their minimums, you will then be on your own to research other properties in the area that fit your needs and budget. The resorts will only help if you are booking a reception at their property or sister properties.
Hotel Accommodations
Chapel of the Flowers: Our wedding planners have full access to book any hotel in Las Vegas for you and your wedding guests. We can even arrange to put the happy couple in a honeymoon suite  at one resort and the wedding party and guests at another property so the newlyweds have some guaranteed alone time. We make it simple to book your ceremony, reception and even find hotel rooms for you and your guests.
Casino Resort: The resorts will have you do a room block at their property or sister properties with a negotiated rate (not always the lowest rate, BTW), and require your credit card to do so. Most properties still require that you sign a contract for the amount of rooms you "think" will be booked for you and your guests. If your guests don't reserve the rooms, you will have to pay for the difference of the unused rooms.
Ready to book your Las Vegas Wedding, or need more information on Chapel of the Flowers versus Casino Resorts? Contact our wedding planners via email at info@littlechapel.com or call us at 702-735-4331 local, 1-800-843-2410 toll free and 020-3286-5662 international.