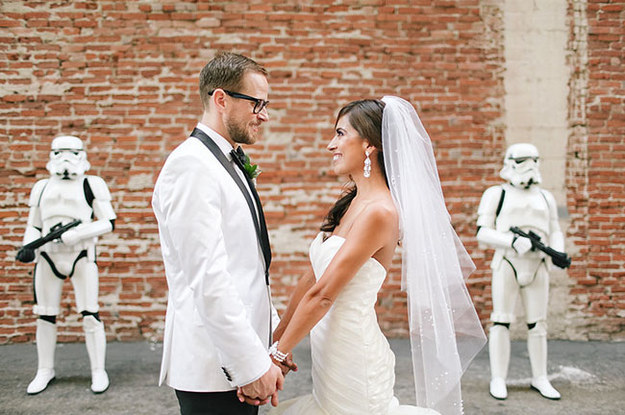 There is nothing being talked about more than Star Wars: The Force Awakens. Whether you dream of becoming a Jedi or find yourself fascinated with the Dark Side of the Force, a Star Wars inspired wedding is a must for those that just can't get enough. Chapel has pulled together some of the best ideas from our Pinterest page on how to incorporate this legendary movie into your dream Las Vegas wedding chapel.
The invitation is the first clue your guests will get of your Star Wars themed wedding.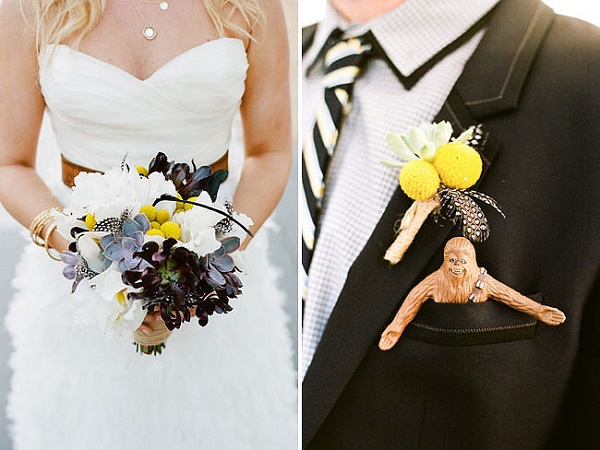 We love this bride's unique floral bouquet and the groom's matching boutonniere. And how 'bout the Chewbacca "pocket square?" This fun bride and groom love to hide Chewbacca around the house and the bride brought the fun to their wedding by hiding him in the groom's pocket. When the groom found Chewbacca he tucked him in as a pocket square.
This ultimate Star Wars bride incorporated her love of Star Wars in her wedding in the most classy way with Princess Leia flower girls, Stormtrooper escorts, Star Wars inspired table names, and of course light sabers at the Reception.
How yummy does this galaxy look? An elegant way to incorporate your Star Wars' theme into your wedding cake. This amazing wedding cake features the Star Wars' battleships, including the Millennium Falcon, in white fondant.
May The Force Be With You! An arch of light sabers to send you off into the galaxy.
Let our wedding Jedis help you incorporate your love for Star Wars into your Las Vegas wedding package.