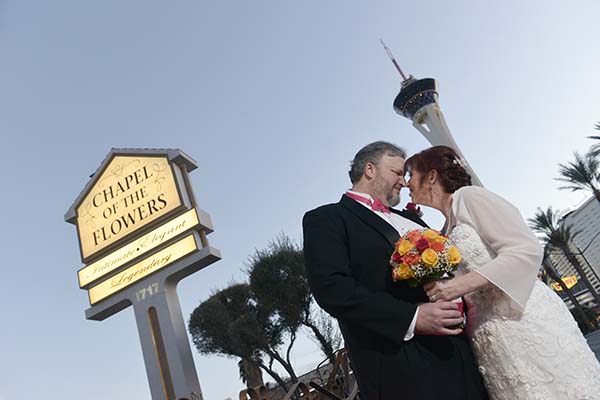 Now-a-days we don't hear very much about lasting love stories. At Chapel of the Flowers we have the privilege of getting to know some couples and seeing them come back again and again. Recently we had one extraordinary couple come through our doors for the third time to renew their vows and celebrate their love for each other! Seeing how their love has grown over the years is truly inspirational and proof that love lives. So, here is the love story of Scott and Jill.
Falling in Love
Scott and Jill met in 2003 through mutual friends and soon became great friends, spending most of their time together. Jill knew Scott was the one for her from the beginning, sticking by her side through some rough times. During the start of their relationship, Jill was going through the recent loss of her mother to breast cancer and COPD. She was at a low point in her life feeling like nothing could go her way. Scott had the great desire of making sure Jill knew things could only get better. With his encouragement, they were able to process the book, A Child Called It by Dave Pelzer, which built up her confidence leading Jill go back to college for her Bachelor's degree (which is something that Jill was scared to do before).
Knowing that their relationship could get through almost anything, Scott and Jill moved in with each other and adopted a rescue puppies, Phoenix and Skye. Phoenix was appropriately named after the mythical Phoenix bird which rises from the ashes and is reborn again. Which is a true reflection of Jill taking control situations and getting her second chance in life.
Early 2005, life was going great for them and Jill recalls one unforgettable evening. "I had come home from work one evening after a really long day. Scott asked me if I would mind taking Phoenix out to do his business. I grabbed his leash and as I started to hook it to his collar, I realized there was an engagement ring attached to his leash. It was truly special that he included Phoenix is his proposal. I said yes immediately."
 The Wedding Ceremony: February 18, 2006
After a 10 month engagement, Scott and Jill decided to exchange their vows and devote a lifetime of love to one another at "Little" Chapel of the Flowers. They had an intimate ceremony in our Magnolia Chapel.
They chose Chapel of the Flowers because the property was "very classy and had packages that were very affordable." Jill adored her cascading bridal bouquet and modern touches of the Magnolia Chapel.
"I do" Again: February 18, 2013
On their 7 year wedding anniversary, Scott and Jill decided to renew their wedding vows with a classic Viva Las Vegas style wedding in our Victorian Chapel with Elvis as the officiant followed by a legendary Las Vegas Strip photo session.
Scott always wanted an Elvis impersonator to officiate his wedding. After not having "The King" pronounce them husband and wife at their first wedding, Jill agreed to make Scott's dream come true. Looking back, this is one of Jill's favorite memories at Chapel of the Flowers.
Third Time is the Charm: February 23, 2016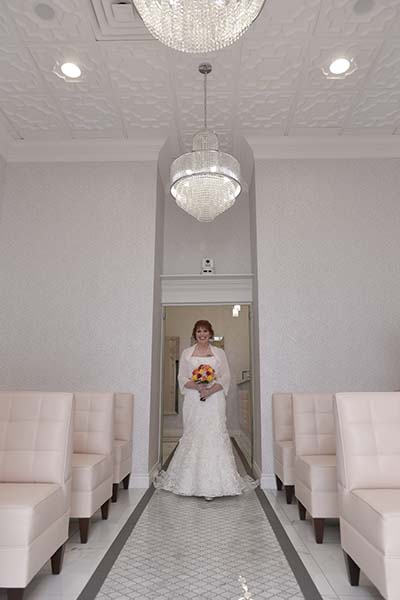 To commemorate 10 years of marriage, Scott and Jill came back a third time to renew their vows again. They decided to go back to where they first said "I do"… the Magnolia Chapel. Newly renovated, Jill looked gorgeous walking down the aisle surrounded by crystals in the glamorous new chapel.
"We love the romance of it [vow renewals]. Being able to recommit to one another, and showing that I would remarry you again is a wonderful feeling. It doesn't hurt that I get to dress up again"
Custom Wedding Shoes
Like any girl, Jill loves her shoes! Jill started a little tradition on her first vow renewal to get custom shoes made for her ceremony. For her first vow renewal, she had her boots done by Amanda Richardson of HD West. These boots were made to carry the details of her love story with Scott.
For her second vow renewal, Jill's heels were custom designed by Kat Drinnan of Electric Heels. These heels showcased the couple's love of Las Vegas featuring artwork of Chapel of the Flowers, iconic Las Vegas celebrities and landmarks; along with other details close to Jill's heart.
The Future
No one knows what the future holds for any couple. Jill and Scott believe with love, laughter and communication; a couple can get through any struggle.
Scott and Jill over the years have become part of the Chapel family and we are so excited to see what the future has in store for them. So will there be a third vow renewal? Scott and Jill do plan to return to Chapel of the Flowers for their 15th wedding anniversary and renew their vows!
"Renewing our vows reminds us to never take each other for granted."
To be continued…