Chapel of the Flowers is proud to announce the reopening of the newly remodeled Magnolia Chapel. It is Las Vegas' most elegant chapel with a modern twist. Our first couple married in the Magnolia Chapel had the honors of cutting the ribbon just before their wedding ceremony over the Valentine's Day weekend. Their glamorous Las Vegas chapel ceremony was the first of many  we look forward to hosting in the Magnolia Chapel at Chapel of the Flowers.
A Tour of the Glamorous Magnolia Chapel
The Magnolia Chapel lobby is a beautiful place for your guests to be greeted by your wedding planner before your ceremony. From the lobby your guests enter the Chapel through frosted glass double doors which will be closed shortly before the ceremony begins for the bride's reveal.
Up to 20 guests can be seated in the Magnolia Chapel on plush, rose quartz, leather couches. They will be awed by the modern glamour and  opulence around them. Custom gray shimmer wallpaper, over-sized chandeliers and marble mosaic floors are all details carefully put together by the Chapel of the Flowers in-house design team.
Every moment of your glamorous Las Vegas chapel ceremony, from the bride's entrance to "You may now kiss your bride," is captured on our discreetly hidden video cameras. You will be able to enjoy the memories of your wedding day for years to come. It is also possible to live stream your wedding, commitment or vow renewal ceremony for your family to view in real time, on the day of your wedding.
All of our wedding packages and any extras you dream of on your wedding day are available in the Magnolia Chapel. The Unity Ceremony is a favorite of many couples who choose the indoor chapel ceremony. Once you book the Magnolia Chapel, one of our personal wedding planners will help you customize your wedding ceremony to complete your vision.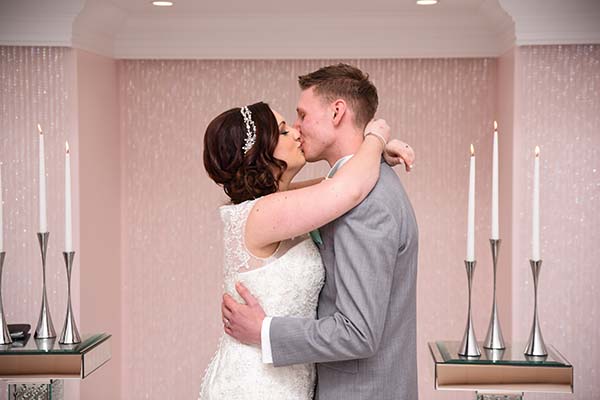 Chapel of the Flowers is excited to be serving our couples in the elegant and modern Magnolia Chapel. The unique and glamorous Las Vegas chapel. We can't wait to start planning your ceremony with you, so give us a call today to reserve the date: (Local) 720-735-4331, (Toll free) 1-800-843-2410, (UK) 020 3286 5662, or marryme@littlechapel.com. To learn more about the newly remodeled Magnolia Chapel you can read our press release or visit our website.