Most couples aren't professional wedding planners, and tend to gain their wedding planning experience from popular TLC network shows. Chapel of the Flowers has been planning dream weddings in Las Vegas for close to six-decades. With their expertise and advice, we hope that during your planning process that you don't make these most common wedding planning mistakes.
Mistake #1: The Guest List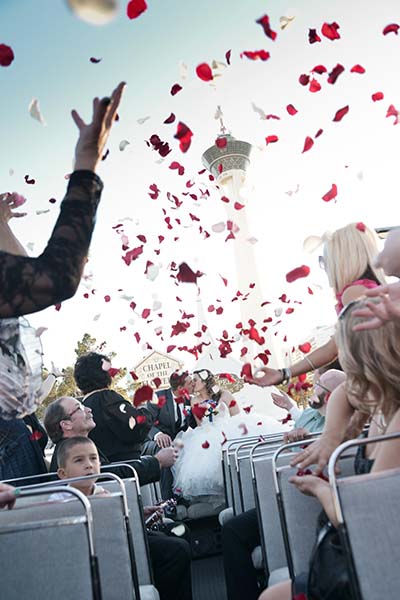 Couples will get engaged and are so excited, they book a venue before knowing the guest count.
Expert's Advice: STOP…SLOW DOWN…AND BREATHE! First thing's first, almost every venue will ask you "How many guests will you be expecting?" After getting engaged, figure out the guest list. If you are doing a destination wedding, it is crucial to figure out how many guests that will be able to travel to attend your wedding. This of-course, will help you plan the budget.
Mistake #2: The Budget
Most couples will plan their wedding based on a budget, and what they can and can't afford. Majority of couples also have no clue what a realistic budget is and what weddings actually cost. The average cost for weddings in the United States is over $26,000.
Expert's Advice: Do some research before setting a budget. There isn't a science or special formula for wedding budgets, and it all really depends on what you want for your wedding. Call a couple of venues that you are considering and get some quotes.
Do the quotes seem too expensive for what you are willing to spend? You might have expensive taste. Which is fine. That would be a good time to see if you have family members pitching in to help with the cost. If you are paying for the wedding all by yourselves, consider not having an open bar at the reception or high-end floral arrangements. Figuring out amenities that are "must-haves" and "like-to-have", will also help your wedding budget.
Mistake #3: Understanding Your Wedding Package and Asking the Right Questions
You are excited and eager to start planning, so you book a wedding package and find out later that it doesn't include something you thought it did. Here are some common questions couples forget to ask about their wedding package.
Q: Are there any additional venue fees, service charges or gratuities that aren't included in the price?
A: Most venues have minister fees, additional staff cost or gratuities that are paid on the day of the wedding. Make sure to ask your venue about this, so you can make sure to have the cash on hand for those last minute tips and fees.
Q: Are the copyrights of my wedding photos included with my wedding photographer?
 A: Copyrights are the consent a photographer gives to the couple to share their wedding photos on social media and reproduce prints/canvas. Most wedding photographers don't include the copyrights and will charge an additional fee.  Majority of photographers will list a price for ONLY their services with a couple of prints. If you don't purchase copyrights, you won't have access to share your photos online and will have to contact the photographer for any duplicate prints.
Q: What flowers are included in your wedding package?
A: Couples are sometimes shocked on the day of the wedding to see flowers that they didn't order. This might be because you sent the florist a photo of an arrangement, and a couple of flowers in that photo aren't in season. Make sure if you are looking for an exact replica of an arrangement (not a "look-a-like" version), that you speak with the florist and make sure the flowers you want are in season.
Mistake #4: Rainy Day Weddings
So you planned a beautiful garden wedding with thousands of dollars put into the floral design, and it rains on your wedding day. To top off the whole day, you picked a venue that only has outdoor space for your ceremony and reception.
Expert's Advice: This common mistake is overlooked by a ton of couples. Venues can't predict the weather.  Make sure when picking your dream wedding venue; find out if they have some sort of back-up plan for if the weather turns out to be horrible on your big day.
Mistake #5: Skipping the Video
A lot of couples look at wedding videography as an unnecessary expense, but quiet a few will look back wishing they spent the extra money for a videographer to document their special day.
Expert's Advice: If available, find a venue that offers wedding videography included in the package, or has wedding videographers that can be added for an additional fee. If it isn't in your budget, see if you have a relative or two that wants to pitch-in for the cost of the videographer as a wedding gift.
Now that you are armed with insider tips from wedding experts, you can be that much more prepared for your wedding day! If you are interested in a stress-free Las Vegas wedding, contact the wedding planners at Chapel of the Flowers to start designing your all-inclusive wedding package.