The year 2020 is the return of the Roaring 20's – 100 years later – and Great Gatsby weddings are bigger and better than ever! Vintage-inspired weddings have always been popular, and we predict they will continue to be on the rise in the next decade. The wedding planners at Chapel of the Flowers have put together their top ways to include diamond wedding decor to make any ceremony and reception feel like a glamorous 1920s celebration!
Elegant Gatsby-Inspired Wedding Ideas
What is it about the Roaring 20's that we all love so much? Maybe it's the glitz, the glam, the booze, or the turn-of-an-era feeling that makes us nostalgic.
Glamour is what defined the 1920s, and what's more glamorous than diamonds? Known for their cut, clarity, carat, and color; diamonds are the perfect accent to add that vintage wedding sparkle to your ceremony and reception.
Diamond Wedding Flowers
Although there are many ways to weave a theme into a wedding, one of the best places to begin is with the wedding floral. From the bridal bouquet to the wedding party arrangements to the ceremony floral decor, creating one cohesive look will dazzle any guest.
This year, Chapel of the Flowers is celebrating its 60th Anniversary – the Diamond Anniversary! To honor this achievement, our amazing floral team has created an all-new Diamond Floral Collection, which is the perfect addition to any vintage wedding.
Bridal Bouquets for Gatsby Wedding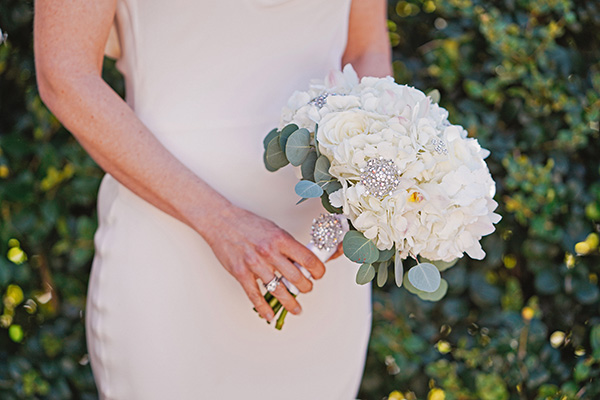 The staple piece of the Diamond Floral Collection is, of course, the Diamond Bouquet. Shimmering rhinestone brooches adorn this bouquet, filled with lush hydrangeas, mini cymbidium orchids, roses, and silver-dollar greenery. Use this combination of flowers in white to create the perfect Great Gatsby Bridal Bouquet.
If you are looking for even more bling, consider adding a rhinestone wrap to the stem, a detail which is sure to wow!
Wedding Flowers with Diamonds
Ensure that the diamond theme is continued throughout the entire floral collection by including embellishments like rhinestones for each item. By adding a hint of bling to your floral designs, it will ooze with pizazz and that Roaring 20s style.
A Diamond Boutonniere for the groom or groomsmen. This simplistic style adds a white orchid with diamond sleeve.
Gorgeous Diamond Bridesmaid's Bouquet for the bridesmaids. Featuring roses and hydrangeas with rhinestone accents for some extra sparkle.
Sweet Diamond Corsage showcasing a single rose, greenery, and diamond embellishments for that significant family member.
Diamond Wedding Decor
The ceremony and reception spaces are probably the most important spaces to show-off that Gatsby-themed design.  This is where you can get creative with awe-inspiring ceremony arrangements and eye-catching centerpieces.
Diamond Ceremony Decor
The Diamond Altar Spray, a gorgeous arrangement of hydrangeas, roses, mums, and greenery within a sleek silver vase and sparkling diamond accents.
The Diamond Floral Pew Marker continues with the diamond theme, featuring a dangling crystal surrounded by roses, stock, and silver dollar greenery.
Diamond Reception Decor
Using the same types of flowers in both the ceremony and reception floral is one foolproof way to create a consistent wedding theme. The Diamond Floral Collection offers several types of centerpieces, in order to accommodate any table size, budget, and vision.
The chic and elegant Diamond Centerpiece brings simple beauty to any reception table. This centerpiece adds shimmer with the metallic silver vase which holds delicate roses and greenery.
Want for glimmer and less floral? The Diamond Floating Centerpiece showcases floating candles within gems and mini cymbidium orchids.
Gatsby Wedding Paper
After creating a cohesive ceremony and reception floral concept, all that's left are the small details that bring the entire theme together. Finish your roaring 20s wedding design, by adding art-deco menus, sign, and photobooths.
Planner Tip: Using metallic foil on your wedding paper will make invitations, menus, and other paper items shine like a diamond!
(Photo via Etsy)
Continue the Gatsby wedding theme with this art-deco black and gold seating chart.
(Photo via Etsy)
The perfect retro wedding menus, complete with matte black background and shimmering gold metallic lettering.
(Photo via Etsy)
Let your guest know to stop, strike a pose and have fun at your "roaring" photobooth.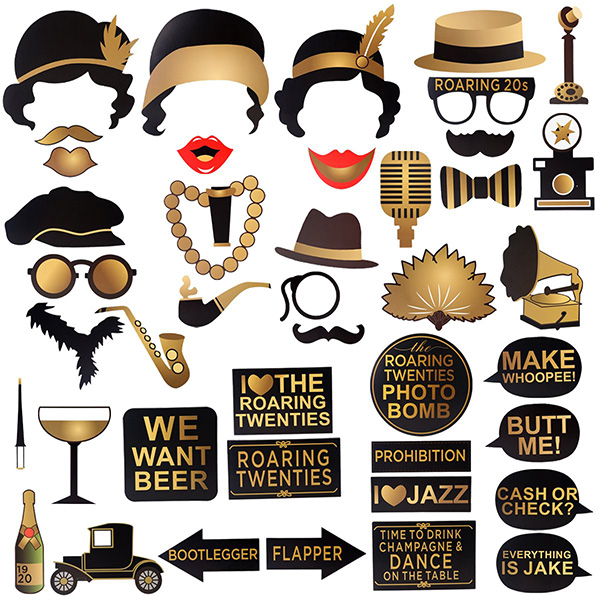 (Photo via Amazon)
Make it a night to remember with a fun photo booth and props, and cherish the photos for a lifetime!
Planning a Roaring 2020 wedding? Consider the La Capella Chapel at Chapel of the Flowers in Vegas. The designer art-deco wedding venue is the perfect place for your Gatsby wedding. Our wedding planners will assist you with an all-inclusive package to include all the bells and whistles for your big day. Contact us and start planning your perfect Great Gatsby wedding today!