Festive Family-Style Italian
Festive Family-Style Italian
This festive Las Vegas restaurant is the perfect place for your casual wedding reception. Enjoy dishes enjoyed for generations in villages throughout Italy and take in the family photos and whimsical decor as you and your guests celebrate. Listen to Italian-American crooners Dean Martin and Frank Sinatra as you indulge in an unforgettable wedding experience of delicious antipasto, salads, pastas, pizzas, entrees, fine wine and beer. Celebrate!
Your wedding planning specialist can assist with all the menu details, information on restaurant buy-outs for larger parties and other venue amenities.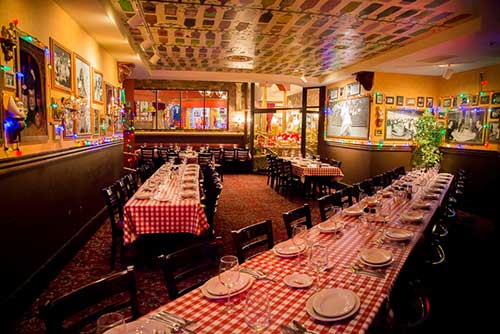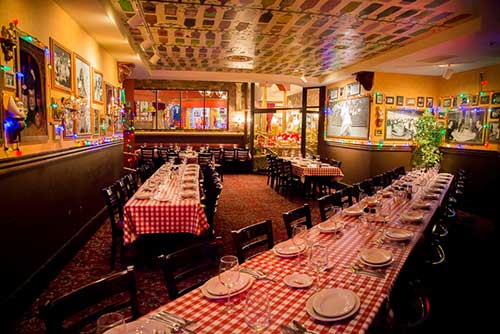 Menu Options
All listed pricing is honored when booking directly with your wedding planner.
Family-Style Appetizers
Mozzarella Garlic Bread - $3.84 per person
Bruschetta - $5.51 per person
Margherita Pizza - $5.51 per person
Four Cheese Pizza - $5.51 per person
Fried Mozzarella - $5.51 per person
Mozzarella Caprese - $5.51 per person
Fried Calamari - $7.34 per person
Afternoon Bliss - $40.42 per person
Includes tax and gratuity
Available Monday-Thursday 10:30AM - 3:00PM
Antipasta
Choice of Insalate

Mixed Green Salad
Caesar Salad

Choice of Pasta

Spaghetti Marinara
Lasagna

Beverages

Unlimited soft drinks, coffee, and iced tea.

Additional Options

Dessert: $10.25 per person
Select from Cheesecake, Chocolate Chip Cannoli, or Tiramisu
Happily Ever After - $60.63 per person
Includes tax and gratuity
Choice of Antipasta

Mozzarella Garlic Bread
Bruschetta

Choice of Insalate

Mixed Green Salad
Caesar Salad

Choice of Pasta

Spaghetti Marinara
Baked Ziti

Choice of Entree
Beverages

Unlimited soft drinks, coffee, and iced tea.

Additional Options

Dessert: $10.25 per person
Select from Cheesecake, Chocolate Chip Cannoli, or Tiramisu
Afternoon Bliss Kid's Menu - Ages 4-12 - $20.21 per person
Includes tax and gratuity
Available Monday-Thursday 10:30AM - 3:00PM
Antipasta
Choice of Insalate

Mixed Green Salad
Caesar Salad

Choice of Pasta

Spaghetti Marinara
Lasagna

Beverages

Unlimited soft drinks, coffee, and iced tea.

Additional Options

Dessert: $10.25 per person
Select from Cheesecake, Chocolate Chip Cannoli, or Tiramisu
Happily Ever After Kid's Menu - Ages 4-12 - $30.31 per person
Includes tax and gratuity
Choice of Antipasta

Mozzarella Garlic Bread
Bruschetta

Choice of Insalate

Mixed Green Salad
Caesar Salad

Choice of Pasta

Spaghetti Marinara
Baked Ziti

Choice of Entree
Beverages

Unlimited soft drinks, coffee, and iced tea.

Additional Options

Dessert: $10.25 per person
Select from Cheesecake, Chocolate Chip Cannoli, or Tiramisu
Bar Options
Call Brand Bar - $36.72 per person
Premium Brand Bar - $55.11 per person
Toast - $10.25 per person

Select from Champagne, Sparkling Cider, Red Sangria or White Sangria
Ready to Book your Celebration Dinner at this Las Vegas Wedding Venue?

Get Started
;