Stylish & Casual Café
Stylish & Casual Café
It's your wedding, so celebrate! No two receptions are the same, and yours should be just as unique as your love. Located on the Las Vegas Strip, this modern-meets-retro café is the ideal joint for anyone looking for an upbeat and casual wedding reception.
Decorated with old Hollywood memorabilia, you will gather with friends and family to enjoy the atmosphere and libations in the lounge area. Afterwards, you will head into the private dining room where you will indulge in a 3-course plated meal, buffet, or cocktail style wedding reception. Whether you have a large event of 80 guests or intimate dinner for 15, the location can arrange a memorable private event for your wedding. Looking for just a nice meal to commemorate your big day? This restaurant will reserve a semi-private space, so you can dine with your closest loved ones.
Your wedding planning specialist can assist with all the menu details, information on restaurant buy-outs for larger parties and other venue amenities.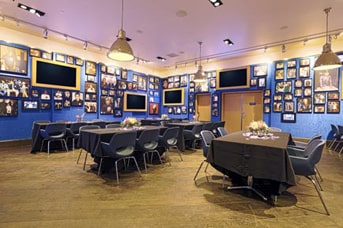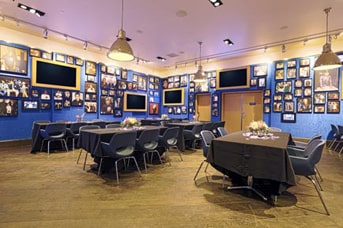 Menu Options
All listed pricing is honored when booking directly with your wedding planner.
Hollywood and Highland Dinner - $82.83 per person
Includes tax and gratuity
(Served from 11:00 AM to 4:00 PM Only)
Choice of One Salad

House Salad Garden fresh greens topped with julienned carrots, tomatoes, & cucumbers, served with Italian Vinaigrette
Citrus Kale Superfood blend of kale, julienned broccoli, slivered Brussels sprouts & cabbage, feta, fresh grapefruit & oranges, cranberries, sunflower seeds & refreshing agave dressing

Choice of Entrée

BBQ Ribs Half rack of slow-cooked in-house St. Louis-style pork ribs smothered with BBQ sauce, served with hand-cut steak fries
NY Strip Steak 12 oz. USDA Choice NY strip served with hand-cut steak fries & green bean blend
Honey Walnut Shrimp Jumbo crispy shrimp stir-fried & tossed with honey-glazed sauce & candied walnut
Roasted Half Chicken Roasted half chicken with lemon butter sauce, served with mashed potatoes & green bean blend

Choice of One Dessert

Crème Brûlée House-made French Custard
Cheesecake Creamy New York-style Cheesecake with a graham cracker crust, served with fresh strawberries & strawberry sauce

Beverages

Unlimited Soft Drink, Coffee & Tea
Kid's Menu - $27.61 per child
Includes tax and gratuity
Kid's Menu Pricing is applied to children between the ages of 4-9 years old. Children 3 and under are free.
Choice of Entrée

Fried Chicken Tenders served with French Fries
Classic Cheeseburger served with French Fries
Turkey and Cheese Sandwich served with French Fries
Cheese Pizza with Tomato Sauce covered with Mozzarella Cheese
Spaghetti and Meatballs served with a Breadstick

Dessert

Two Scoops of Ice Cream Choice of Vanilla, Chocolate or Strawberry Ice Cream

Beverages

Unlimited Soft Drinks, Milk, and Juice
Hors d'Oeuvres Reception - $73.63 per person
Includes tax and gratuity
Choose (6) from the list below

World Famous Chicken Crunch Chicken tenders hand-breaded with a crunchy sweet coating, served with our signature Creole mustard sauce
Tempura Jumbo Shrimp Six shrimp accompanied by spicy Sriracha sauce, served on cabbage slaw
Kobe Beef Sliders Mini Kobe beef burgers topped with cheddar cheese, tomatoes, pickle & caramelized onions on gourmet buns
Assored Fresh Cut Fruit Skewers Assorted fresh cut seasonal fruit
Tex-Mex Egg Rolls Crispy egg rolls stuffed with spicy chicken, corn, black beans, green & red peppers, cilantro, onions & shredded pepper jack cheese, served with chipotle ranch sauce & pico de gallo
Spicy Brussels Sprouts Roasted Brussels sprouts & pork belly tossed in Sriracha mayonnaise, topped with lime crema
Twice-Cooked Buffalo Wings Chicken wings baked & then fried to perfection & tossed in Buffalo sauce, served with bleu cheese dressing
Vegetable Spring Rolls Crispy, deep-fried rolls filled with a delicious stuffing of lightly spiced crunchy Asian vegetables
Bar Packages
Beer & Wine Bar

1 Hour: $31.29 per person
2 Hours: $40.50 per person
3 Hours: $51.54 per person

Call Brand Bar

1 Hour: $34.97 per person
2 Hours: $44.18 per person
3 Hours: $57.06 per person

Premium Brand Bar

1 Hour: $53.38 per person
2 Hours: $62.58 per person
3 Hours: $77.31 per person
Private Rooms & Dining Areas
Contact your wedding planner for more information.
Private Dining Room
Say "Yes" to a fun time! Your wedding guests will love the atmosphere of this private dining room. Wine and dine with up to 50-70 guests.
Restaurant
Dinner for two, semi-private dining or Restaurant Buy-out; this café will allow you the celebrate any size of wedding reception. Max Capacity: 380
Ready to Book your Celebration Dinner at this Las Vegas Wedding Venue?

Get Started
;